Mobile workforces are organizations that are scattered across the globe and stay connected to execute normal business operations through the shared use of technology. A mobile workforce includes everything from a fully-remote organization or partially remote organization, to an organization with workers on the go.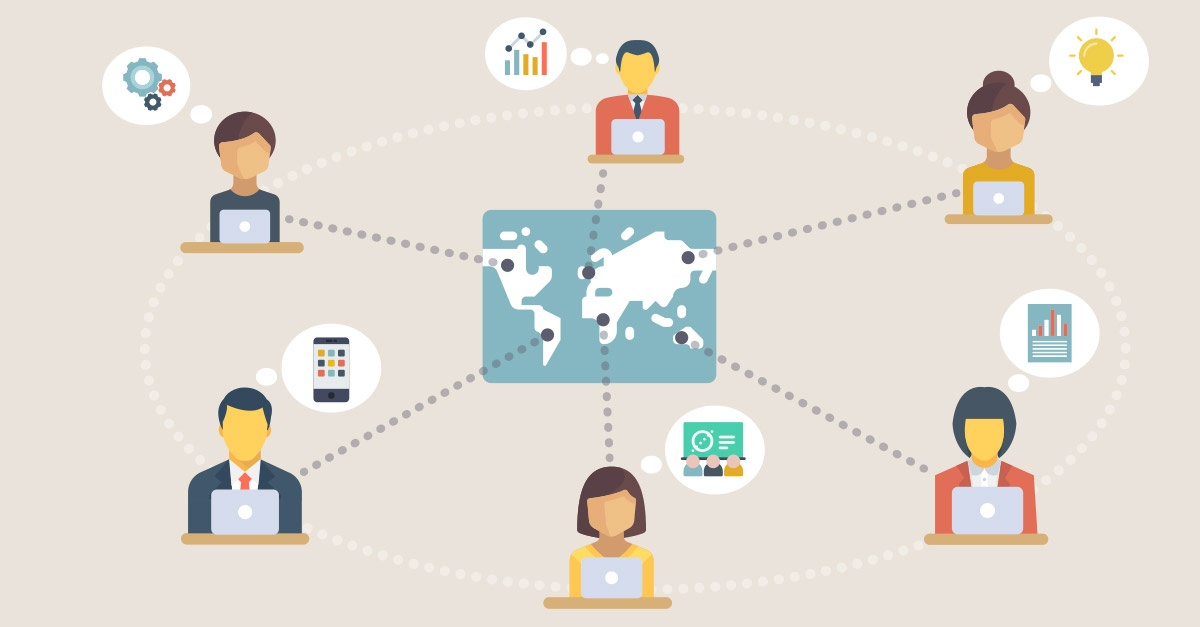 Currently,
50% of the US workforce
holds a job that is compatible with telecommuting, with 25% actually telecommuting at least part of the year. From an employee perspective,
80-90% of US workers
would prefer to telecommute at least one or two days out of a work week.
What was considered a unique working style limited to some of the world's biggest companies has now become commonplace. Mobile workforces are growing in popularity due to overhead cost savings, flexibility, and employee satisfaction that can come from working remotely.
Despite this growth, only 7% of US companies currently make such an arrangement available. The challenges of working remote include managing communication and monitoring employee engagement. Thankfully, there are tools to help manage this process.
Ways to Engage and Manage a Mobile Workforce
Mobile workforces face the same challenges as traditional teams. The only difference is that face to face communication may be limited, leaving employers more reliant on technology to fill in those gaps. With an estimated 85% of millennials and 65% of adults owning a smartphone, the barriers to effective communication are all but eliminated.
Engagement is a bit tricky and requires a thorough understanding of a company's workforce, mobile habits, preferences, and overall working style. These preferences can vary depending on the industry and size of an organization. Typically, smaller companies are more flexible to mobile workforces, despite lacking all of the resources that larger companies have.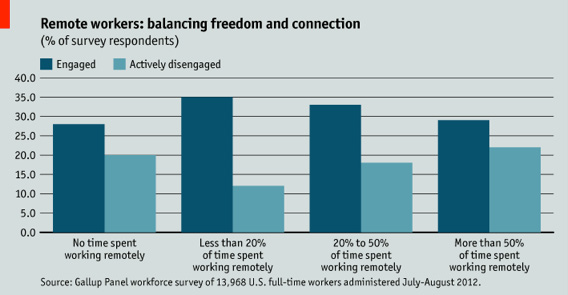 This graph highlights the difficulties of keeping a remote workforce engaged. Most of the time, this disengagement is due to too much freedom or the lack of a remote strategy. With proper planning, engagement can be achieved and productivity improved. In fact, a ConnectSolutions study found that 77 percent of remote workers get more done in less time thanks to fewer distractions like meetings, conversations, and noisy coworkers.
Here are three effective ways companies can engage employees in the field:
1. Promote and Encourage Open Communication
Managing a remote workforce often involves having employees spread across the globe. In order to communicate effectively, the concept of over-communication should be encouraged. Using an internal messaging system, like Slack, brings everyone in one place through targeted team-focused channels and topics. Currently, 70% of Fortune 100 companies use Slack.
Even more incredible, the average Slack user spends roughly 320 minutes a week actively using the application. Here is a little tip for getting the most out of internal communication apps – encourage casual conversation and hobby channels. Sports, random events, funny news, and other leisure channels can help drive engagement and team bonding.
Takeaway: When in doubt, over-communicate when working in a remote workforce.
2. Offer The Right Set of Tools and Technology
A mobile workforce should be comprised of a comprehensive technology stack that is built for remote workers. Most of these technologies come in the form of apps or SAAS products that can be purchased and scaled at reasonable rates.
To get started, look to add at least the following in your remote technology sales stack:
Internal communications application: Slack, HipChat
Mobile training application: Atrivity, Blackboard
Time zone tracking and meeting calendar: EveryTimeZone, Boomerang
Project management: JIRA, Trello
Cloud-based file sharing: Google Docs, Dropbox
Video conferencing: GoToMeeting, Sqwiggle
Time tracking: Harvest, Tick
The following list covers most communication and engagement related necessities. Having the right tools in place can make the world of difference for a mobile workforce. Even traditional offices can utilize these tools to give traveling sales staff the freedom they need, while staying actively engaged with in-office functions.
For companies, mobile workforces help reduce operation costs and expenses. For example, Aetna saves $78 million in office expenses by allowing up to 35,000 workers to work remotely. It is also reported that American Express saves at least $10 million annually thanks to remote working options.
Takeaway: With the right tools and strategy in place, a mobile workforce can be just as engaged and connected as in-office teams.
3. Recognize and Reward Employees
Employee recognition is a key aspect of motivation and engagement for all types of workplaces. For mobile work forces, this aspect is even more important as typical office support systems and interactions are largely digital.
For mobile work forces, recognition and rewards can be both digital and in-person. Here are a few practical ideas to recognize your employees:
Create a newsletter that highlights weekly accomplishments
During weekly video calls, have an "MVP' of the week that hosts the meeting
Consider an annual offsite to drive bond building between employees
Use a mobile game that recognizes and rewards training accomplishments
Offer additional perks for superior performance (co-working stipend, electronics, etc.)
Send physical tokens of recognition such as thank you notes or gift cards
Creativity can be used to design other reward and recognition programs for mobile workforces. The goal is to be consistent and encourage employee-generated feedback and participation that can contribute to a mutual feeling of appreciation. This will help shape the company culture, which in turn can drive higher long-term employee retention rates.
Takeaway: Use a mixture of digital and non-digital rewards to motivate and recognize employees
Conclusion
With roughly 72% of all Americans predicted to work remotely by 2020, mobile workforces are the future. Not only do mobile workforces benefit employees by encouraging flexibility, employers benefit from cost savings and a general increase in employee productivity.
An endless array of mobile and cloud-based resources has allowed the office to turn completely digital, while retaining key communication and engagement levels. While still not perfect, modern day mobile workforces are more aligned with the demands of modern workers, ultimately helping to strengthen loyalty and overall job satisfaction.