By 2019, companies globally are expected to have spent a total of US$2.1 trillion on digital transformation. The digital revolution has brought massive changes in technology advancement and companies are now exploring innovative and often fundamental changes in their business processes to incorporate digital solutions.
This process, coined digital transformation, is a change that companies should explore in order to remain competitive in the digital economy.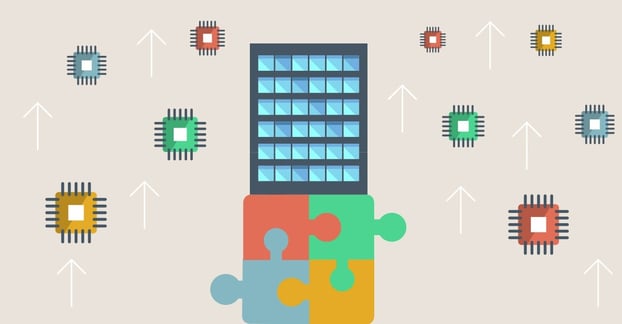 By 2018, it is estimated that one-third of the top 20 firms in industry segments will be disrupted by new competitors within five years. Most of these competitors target the same customer base, but execute strategies that are digitally-focused, often disrupting a traditional industry.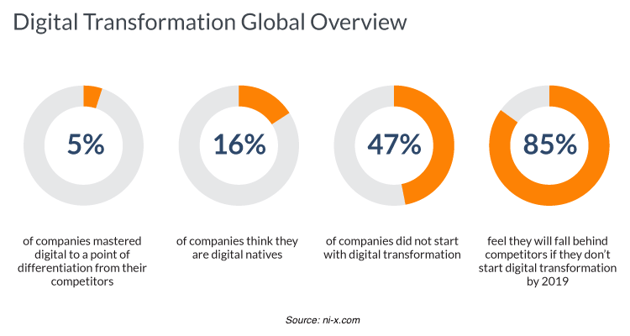 The transformation from analog to digital requires a careful selection of goals, as well as the right resourcing. Thankfully, gamification apps and technology have proven to be efficient in accelerating the digital transformation process and helping solve common challenges.
Common Challenges of Digital Transformation
Digital transformation can vary from company to company, but is typically driven out of necessity for growth, to meet evolving customer preferences, or due to increased competitive pressure. A study highlighted by Forbes found that 40% of global executive leaders surveyed expected to be fully digitally transformed by 2018 and 55% saw an increasing threat by startups in 2017 – a tricky situation that puts pressure on companies to shift gears to survive.
The challenging part is implementing digital transformation in a way that minimizes internal damage. An IDC report predicted that by 2018, 70% of isolated digital transformation initiatives will fail due to insufficient collaboration, integration, or project management.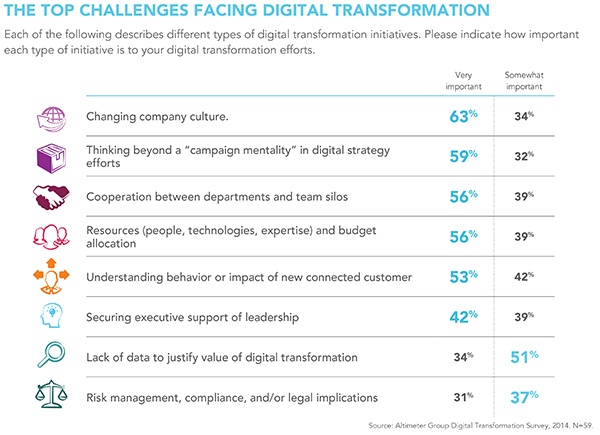 As seen in the chart above, some common challenges of digital transformation include changing culture and perception, resources, and communication. For large companies, this transition can be slow, which is ultimately detrimental as startups begin to threaten their market share.
How Gamification Can Accelerate Digital Transformation
Gamification can be used as a versatile tool to accelerate core gamification objectives. Smaller companies have the benefit of being more agile, while larger companies can provide resources to fuel digital transformation. The good news is that gamification can be applied to each, by being extremely robust in terms of mass customization and application.
MIT Sloan recently compiled a list of the nine elements to digital transformation, which had some significant overlaps with a study conducted by PwC. To get a better understanding of how and why gamification can be applied, a few core overlapping pillars from these studies will be used to explain direct use cases and applications.
Core Digital Transformation Goals
1. Transform the Customer Experience
Digital transformation should assist companies in getting a better understanding of their customer base. This is done by adding digital channels and touch points that allow customers the chance to express themselves and give companies a chance to use that feedback proactively. Additionally, gamification is a great catalyst to drive customer loyalty programs.
In 2014, American Airlines launched a "Passport Challenge" to excite customers after their merger with US Airways. Utilizing a Facebook application, American Airlines created a virtual passport that featured trivia games, dashboards, and incentivized participation. The results were incredible with participants performing 70% better than expected and American Airlines earning a ROI of over 500% from the program.
Another example is Microsoft, who captured 16X more feedback within their Communicate Hope initiative's game feature compared to non-game users. It is important to note that the customer experience can transcend external facing gamification initiatives and can be impacted with internal processes as well. Better trained employees with more customer knowledge can add this value, as seen in the next section.
2. Modify Operational Processes
Operational processes relate mainly to internal company processes. Operationally, companies can digitalize processes, use technology to drive worker enablement, and enable performance management. Improving internal processes is where gamification can make a giant impact. A few core internal applications include:
A. Sales Training and Enablement:
B. New Hire Onboarding:
C. Drive Engagement:
D. Learning and Retention:
3. Transform Business Models
Digital transformation adds valuable digital modifications to a traditional business model, expanding boundaries to include new digital businesses and digital globalization. Think of gamification applications as enablers. With creativity applied, they can be used across an organization and are easily scaled to fit the needs of organizations of any size.
For example, gamified applications can take global initiatives and make them locally responsive. Most if not all aspects of a company's global expansion could be gamified in the local country's language and customized to include local preferences. This borderless capability to expand across time zones and offer both a standardized or customized experience is a plus.
As with any business decisions and models, data is key. Gamified applications track and store multiple data points that can be converted to calculate the ROI of a particular initiative. Imagine having multiple gamification applications driving your digital transformation process.
You could be training staff, localizing a product, gaining customer feedback, and tracking all of this progress down to an employee or customer level. These dynamic capabilities can transform business models and lead companies down the path to digital transformation.