Trade Show exhibitors put a lot of time, money, and energy into preparation and creating memorable on-site experiences. What comes after attendees leave the trade show floor?CES2018 took place just last week. Thinking critically about how to make the most of your presence after a trade show is beneficial to engage with potential customers and establish relationships. The goal afterall of product launch is to stand out from the crowd, connect with new contacts and follow-through with sales.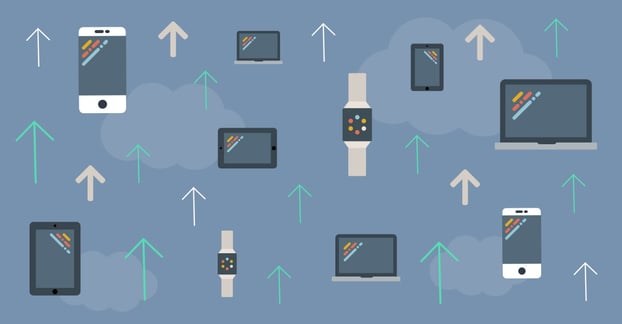 While CES 2019 is already being planned, exhibitors still need to focus on getting the ROI to boost sales after this year's CES 2018 Trade Show. Empower your reps to manage with sales enablement tools and technologies.
Here's what you can do to keep up the momentum post-event:
Spend time on your follow-up strategy and get contacts in your pipeline
Sales and marketing coordination is key after the show. Create a timeline and action plan immediately following the event. Implement as soon as the last day of the event to keep your company top of mind.
Before you send out emails on-mass, send a single email to each contact you remember.

Send thank you emails within 24 hours with a personal note and a marketing brochure. Mention

a discussion over a speech, moment or product demonstration during the event, that is related to their business.

Schedule times a week or two out with specific and relevant follow-up items. Address any questions and include points that came up during the trade show. Referencing the conversation at the event will have a real impact and make your brand more memorable.
Classify contacts between which are cold leads and need marketing follow-up and warmer leads that are ready to enter the sales funnel.
Tips: Include a photo of yourself and your booth so that attendees will make the visual connection and remember who you are. If you have one with them, even better.
Empower sales people with newly gained and key knowledge
CES is the global stage for anyone with a stake in ground-breaking consumer technologies. For the past 50 years the event has been the proving ground for innovators and the showcasing of next-generation technologies.
The event gives exhibitors first-hand access to competition, market trends, and consumer receptivity to benchmark, enhance its own offering, improve messaging and to boost sales.
Following the event, ensure your salespeople are up-to-date with newly learned market knowledge and reinforce what they know about your product and services to have a greater influence over the customer purchasing process. Product training is more effective with repetition to ensure reps recall key information on-demand.
Use a mobile app game like Atrivity to deliver training content in a scalable way. Atrivity
makes knowledge reinforcement easy, convenient and fun for sales enablement and added employee engagement. Players challenge each other in each training topic which increases app employee participation rates to as high as 90%. Apps for sales reps allow information to be accessed at anytime and from anywhere long after the trade show has closed.
Understand customer needs to create content to engage prospects
Prospects are looking to solve a problem, innovate, offer the lastest generation electronics to satisfy early adopter desire. Buyers at CES look to extend product range, choosing products that offer more margin or attracting their own new custom with innovative merchandise.
Both your sales and marketing teams need a common understanding of each segment and their problems to create on-going content that nurture the leads through your funnels.
Trade show photo opps and takeaways work well to feed content marketing and social media engagement.
While on-site and post-event, capture unique and photos that communicate context and actions. Short timely articles, post blog entries, and converting your speaker slot presentation into a highly visual SlideShare presentation garners further coverage and brand awareness.
Use the event's Twitter hashtag or its LinkedIn Group to promote content and re-connect with other attendees. Highlight any company news that occurred at the event, like a special mention or award.
Leverage the excitement and energy immediately following the show. Impressions may linger for a few days to a week but diminish off quickly afterward. Don't lose the momentum after your next show. Be sure to tap into the buzz while it's fresh to engage employees, follow-through with prospects while the information is hot.