A high-performing workforce is key for growth and survival in today's customer-driven marketplace. Customer experience is central to growth and profits. To stay competitive companies will make the right investments in employee engagement that bring customers in to impact business performance.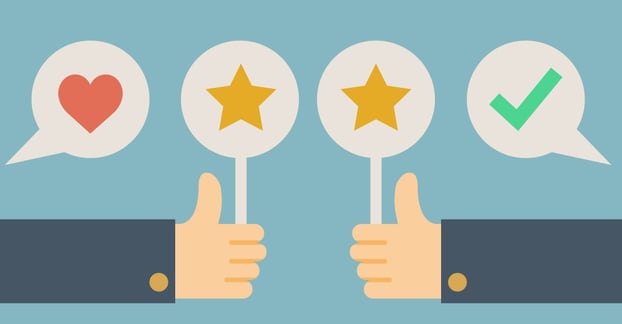 The Harvard Business Review report, The Impact of Employee Engagement, captures responses of over 500 stakeholders-- 15 percent are executive management or board members; 32 percent are senior management; 35 percent are middle management.
71% agree that employee engagement plays an important role in achieving a positive business success.

An engaged workforce maximises companies' investments in human capital while improving productivity. Employees who get the right tools and training prove more likey to be:
ambassadors of corporate brand values

a positive influence on their colleagues

aligned with the organisation's goals

motivated to perform
In the Boston Consulting Group global HR survey, over 3,400 respondents and human resources leaders worldwide shared insights. The survey reveals that investments in areas from enhancing employee engagement to onboarding of new hires and retention leads to 1.6 to 2.5 times revenue growth and 1.6 to 1.9 times profit margin respectively.
HR-led initiatives focused on a productive, positive workplace, and retaining talent drives positive ROI.

The vice president of talent management at Newell Rubbermaid, says "it's about giving people the tools they need to succeed in their careers, which in turn drives the outcomes that we're seeking in the marketplace" when it comes to engagement.
So how can

companies invest to build better customer experiences?
Customer service ranks as the number one factor that contributes to the success of an organisation with a high level of employee engagement only nine points behind. This conclusion leads organisations toward developing stronger policies, tools and a culture to influence the outcomes of every customer interaction.
Customer service center employees connect with people multiple times a day. 62% of companies view customer experience delivered by the contact centers as a competitive differentiator. (Deloitte)
In an IDG interview with Volkswagen Director of CX, the director talks about customer experience insights and staff engagement metrics drawn from their dealership platform. The tool allows them to see how dealers follow-up on customers feedback and impact on customer experience measured in satisfaction and advocacy.
The transparency and immediacy give dealerships and managers the customer data needed to make improvements and train where employees might fall short. Real-time or systematic check-ins give directors and operational managers the information needed to take action before its too late and employees disengage.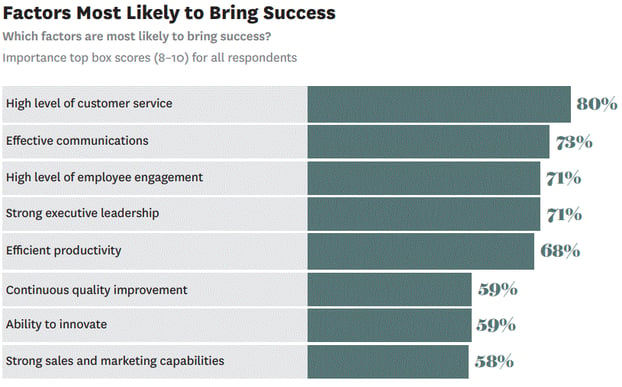 A Regional Bank Director featured in the HBR report says "Each employee should know what they're suppose to do and how it impacts the organisation's performance." The annual survey used by the bank helps the company identify gaps and opportunities. It includes specific areas:
In the last seven days, someone has recognized me for my work;
I have the tools that I need to perform my job;
My supervisor cares about me;
There's someone at work who encourages my development;
I know what's expected of me at work; and
My associates are committed to doing quality work.
These key questions give managers insights to fill knowledge gaps with training, provide support or identify skills for promotions.
Improvements in customer experience start by increasing employees' confidence. Employee training that promotes autonomy and accountability prove most likely to contribute to alignment with corporate goals.
For employee engagement initiatives to succeed, they need buy-in from the top starting with the CEO and all key leaders in sales, customer success, operations, and marketing.
Focus on HR investments that create a learning culture that drive employee engagement to effect customer experience outcomes:
Taking corrective measures, adapting training to reality, and recognising employees' work are signals of support that motivate employees to stay engaged. Staff members who feel that companies respond with the tools they need to succeed show they matter.
A study published by the British Psychological Society shows while the impact of performance on attitudes diminishes after 1 year, the impact of employee attitudes on performance lasts up to 3 years. Investing resources in employees create a positive workplace, an attitude that trickles down to every customer interaction.
A company's commitment has a more lasting influence on performance at the business unit level than vice versa. Job attitudes come first. Trainers and managers who aim to improve job attitudes will see a boost in employee performance.
Directors and HR leaders who address knowledge gaps, key people topics and provide the essential tools will see remarkable improvements in customer experience resulting in greater business performance.
Sources: CMO by IDG, Deloitte, Forbes, HBR