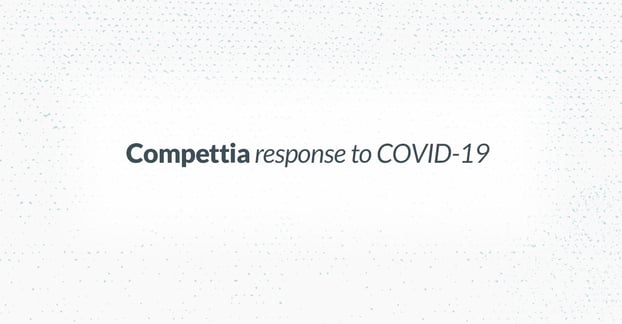 The declared Covid-19 pandemic is affecting people and businesses. We need to adapt quickly to reduce the impact of the measures we are forced to take on our various activities.

At Compettia we have been following the evolution and defining protocols of action in order to face the current situation and possible future scenarios. We always follow the guidelines of the relevant authorities at all times.

First of all, from Compettia we would like to thank all those professionals who in one way or another are collaborating and coping with this situation. In many cases they have made a considerable effort.

We understand that what is happening can generate restlessness. For this reason, below we detail the situation and the measures we have taken to guarantee the continuity of the service in all areas.


Prevention and safety measures for Compettia employees
The health of the people who are part of the Compettia team is our priority. Following the guidelines of the competent institutions, we have activated teleworking for 100% of the staff.


Business continuity
All of our operations and activities will continue unaffected, beyond the impossibility of conducting face-to-face, internal or external meetings. All the technological infrastructure, organization, and work methodology of the company are prepared for situations like this one.

We have been working for years with leading technology providers who have mechanisms to deal with adverse situations like the current one, such as Slack for messaging and internal collaboration, Amazon for platform hosting, Microsoft for cloud development, Zoom for videoconferencing, Freshdesk for support, Wrike for project management, or Salesforce for customer management.

Our mission has always been to make companies better by playing games. We know that keeping remote workforces at home is a difficult task for many industries and we are committed to help our customers do so by using all the features of our platform that allow for a successful yet fun home working life. All our marketing, sales and customer management teams will be active and ready to help.


Atrivity Platform Service Continuity
Today nearly half a million users on five continents enjoy using Atrivity and we are committed to keep it that way.

Our technical team continues to watch over the stability and performance of the platform. We have activated additional monitoring and maintenance mechanisms to ensure that the level of service is not affected.

In addition, we have a business continuity plan to respond quickly to any eventuality that might occur and affect the current service.

Continuity of Customer Success Service
Our Customer Success team is working at full capacity so that both ongoing projects and support continue unabated. The usual support and interaction mechanisms will remain fully operational without affecting response times.

We are aware that this situation may alter plans for training activities and the intended use of Atrivity. Therefore, we would like to encourage all our clients to contact their Customer Success Manager to advise them on the best strategy and best practices in this new scenario to adapt the planned and new activities.


Helping organizations that collaborate in the control of the pandemic
Any non-profit organization that collaborates in the prevention or cure of the disease can contact Compettia. If there is any way we can help Atrivity in its activity to stop the Covid-19 we will be at your disposal.


Compettia would like to thank all our customers for their trust in our solutions and we will do our best to facilitate the continuity of your activities in these difficult times.

We believe that the current situation may represent a paradigm shift for many companies and an opportunity to prove that in a digital world distance is not an obstacle to communicate or transmit information.

We are at your disposal for any doubt that may arise, and we are convinced that together we will overcome the challenge that has been presented to us.
Jaume Juan
CEO

Compettia
,
www.atrivity.com
Avenida Alcalde Barnils, 72.
08174 Sant Cugat del Vallès. Spain.
(Office) +34 931 842 955