The mobile learning industry is forecasted to grow at a 36 percent CAGR reaching $37.6 billion by 2020. Corporate training programs that harness this upward trend will effectively engage employees where they already spend most of their time when connected. Nearly 2.4bn people are using a smartphone this year, up 10.8 percent from 2016. This upward trend in mobile usage and increasing demand for digital education are the forces driving the mobile learning market.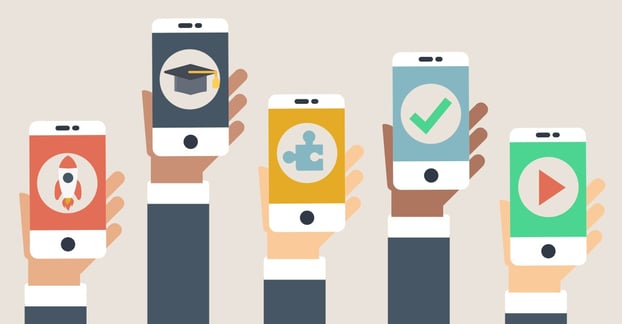 Industry verticals such as banking, healthcare, government, professional services, retail, telecom, and consumer goods are progressively deploying mobile solutions to take the learning experience to a new level.
But not fast enough. In spite of the statistics, organizations still need to catch up to mobile market trends to truly engage employees. A Gallup survey reveals that only 33% of employees in the U.S., and a mere 15% of employees worldwide feel engaged with their companies.
Deloitte Human Capital Trends' latest research shows that "reinventing careers and learning" is the #2 issue for business (followed only by reorganizing the company for digital business). 83% of companies (more than 10,000 respondents) cite this area as important and 54% said the problem is urgent. The insights bring corporate training to the forefront and in line with what good talent expects of organizations.
However, real everyday challenges make meaningful and traditional training methods ineffective. Businesses are expected to be innovative and agile, market-facing and responsible, sustainable and inventive. So how can corporate training effectively build a learning culture and develop talent in a time-constrained market?
Mobile learning presents many advantages. When well-executed mobile engages employees while replacing the human factor with reach, convenience, precision, entertaining, and social features while supporting advancement and performance.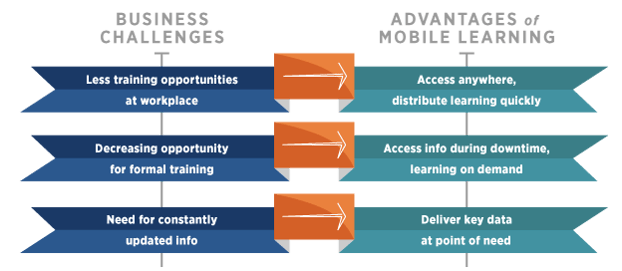 How can companies leverage mobile to deliver the effective corporate training and development?
Reach employees on the preferred device. The best marketers target today's consumer where they already spend their time. Why not apply the same rule to employees? Mobile devices account for more than 60% of all digital minutes in 9 markets studied.


71%, US
61%, UK
72%, Brazil
67%, Spain
When they are already connected. Catch employees at the right times and when they are most likely to be on mobile. Send push notifications to participate in mobile learning programs.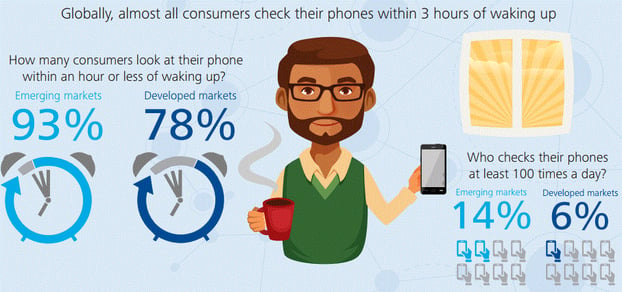 Design for the global and mobile workforce. Adapt training content to each region and language. According to a recent PwC survey

, global assignment levels have increased by 25% over the last decade. The forecast is that this number will grow to 50% growth in international assignments by 2020.

Mobility strategies will need to be highly efficient, timely, and engaging as organisations meet growing deployment demands
Remote and on-the-go jobs. The industries that embrace remote work most are finance, insurance and real estate industries. The share of remote work in some cases rose 8 percentage points in those fields to 47 percent. Deliver continuous training on such key topics as compliance, security, regulations, market trends, product portfolio, and customer profiles.
Microlearning adapts to actual "free" time for learning.

Employees typically only have 20 minutes a week to set aside for learning. Rather than produce two to three hour "courses" that require reading a manual or sitting in a traditional classroom, offer pertinent content in bite-sized pieces. A salesperson in the field or a product manager on a coffee break can take a few minutes to stay up to date.
Deploy and automate "spaced learning". Allow employees to take five minutes of training at a time, then curate and send another five minutes the next day, timed for optimal knowledge retention. Timed learning results in increased interests level, employee engagment, and retaining information. Send push notifications as reminders.
Mitigate the skill gap This means companies have to train, retrain, and jointly educate employees and managers to maintain productivity standards. As millennials take on more responsibility, companies will need to build leadership and communication skills at all levels and in all locations around the world. For seasoned professionals it can take

3-5 years to make them fully productive. To fill skills gaps, offer accessible continuous training in small bits to keep staff in the field and performing.
Mobile time is mostly 'app time'. Apps are a convenient way to access branded, pre-approved and packaged training content on the go.
Leverage BYOD. 45% of employees use personal smartphones for work purposes. Make a pre-approved training app available for download when onboarding new hires and retraining seasoned employees for convenient access and employer brand impact.
Market forces, information and job requirements are changing faster than ever. Mobile learning technologies support the increased workplace productivity businesses demand to stay relevant. To perform at expected levels employees need to learn quickly, and develop new skills at work. Corporate training that support worker success and allow them to reinvent themselves over time will be most successful at retaining the best talent.