The banking industry is experiencing significant changes. Digital transformation and new technologies are revolutionizing financial products, internal processes and, most importantly, the customer experience.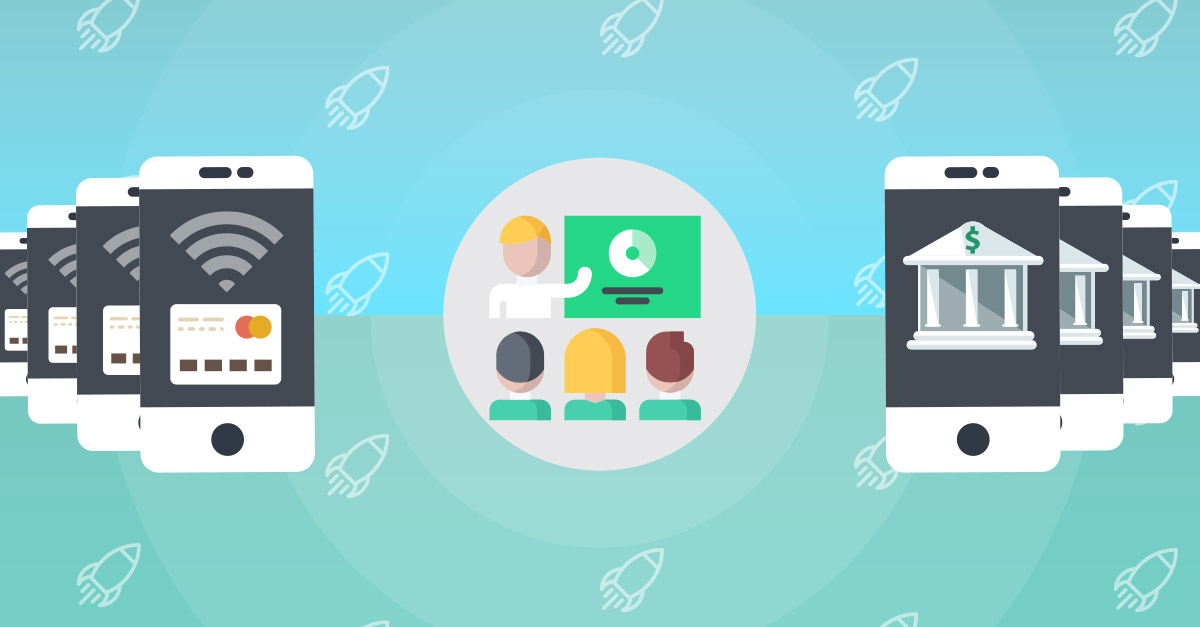 Uncertainty and a large number of new expectations will arise in this transition. In moments of change, quick and agile for customer-facing employee enablement is crucial. They are at the frontline of client interactions. It is up to them to communicate the right messages in line with business objectives.
In the digital age banking institutions still have a long way to go to get consumers in line with technological innovations. According to a new J.D.Power retail banking survey, only 13% of new customers open their accounts online. Those entities will need to invest in communicating, educating, and helping a large number of customers during this transition to new technologies.
Banking entities are aware of the magnitude that this change represents. As stated by IDC Research, U.S. Retail Banks spent $20.2 billion to support digital transformation initiatives and it's growing at an average compound annual growth rate (CAGR) of 22.5% into 2020.
A culture of digital transformation
Despite the banking industry's efforts to move ahead, there are several factors blocking total digital transformation. At the same time clients do not fully trust digital banking. No matter how much financial institutions improve their customer-facing processes, they need to establish trust.
Rebuilding the customer relationship starts with employees embracing and understanding the changes. As reported by McKinsey Digital Survey, the deficiencies in organizational culture are one of the main barriers to company success in the digital age.
"Shortcomings in organizational culture are one of the main barriers to company success in the digital age. That is a central finding from McKinsey's recent survey of global executives, which highlighted three digital-culture deficiencies: functional and departmental silos, a fear of taking risks, and difficulty forming and acting on a single view of the customer" - Culture for a digital age, McKinsey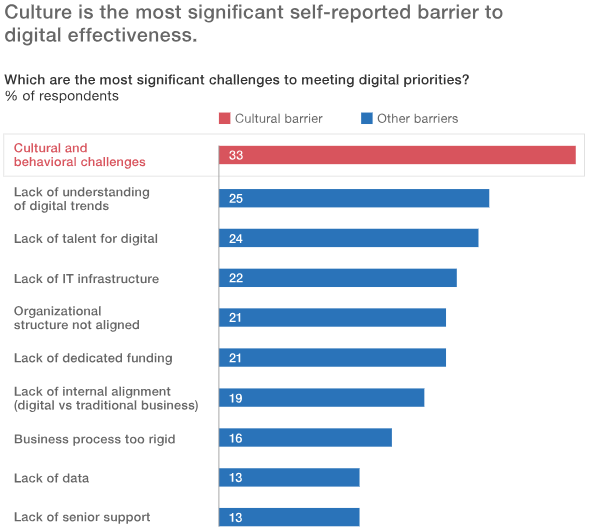 Source: 2016 McKinsey Digital survey
How can we trust a new product when the organization gives us reasons to distrust or feel insecure?
By the "organization" we mean the employees. The front-line of banking staff are the market-facing representation of the institution. Enabling these employees with the knowledge they need to build trust and credibility is essential to attracting and keeping customers.
Advanced and Effective Banking Training
A report by BCG "Global Capital Markets 2018: Embracing the Digital Migration" highlights that digital transformation is pressuring banks to train new talent to be knowledgeable and flexible. The challenge here is, "How do I train employees?" in an industry in constant flux.
Innovating in new products, processes, and new regulations are aspects that directly affect employee training and create the need to apply agile methodologies. By doing this, companies are able to adapt to changes and allow them to enable employees at anytime, faster, and more efficiently.
Thanks to technological advances, new training methodologies have flourished. For instance, gamification and mobile apps represent an advanced, attractive, and efficient solution. They adapt to the demands or needs of the banking industry and they also offer major benefits:
Easy to update and react to changes: using mobile apps for banking training will allow you to update the content at the right time. It's perfect for those industries that experience constant changes, new regulations and innovative products. Employees will always be able to learn with updated and relevant content.
They adapt to any need: new regulations, corporate governance, product launches, certifications, customer service, onboarding, etc. The content in mobile apps adapts to any goal.
Workforce training: banking insitutions have tens to hundreds of thousands of employees with a large network of branches. Hence, traditional training takes a lot of time and resources. In contrast, using a mobile app it's just a matter of downloading with accessible content on-the-go. Training in this sense takes place anywhere, at anytime and in any language resulting in increased productivity and

employee enablement

.
Better experience and engagement: using interactive and high-impact content improves their experience and increases employee's engagement. These are two key factors to drive learning and to establish company culture. A study by Adobe shows that 85% of employees are delighted when they experience cutting-edge technology.
Personal and accessible: convening a number of employees to be trained requires time and planning. Mobile apps allow employees to learn by on their own, organize their time, and coordinate their daily tasks.
Immediacy: we talk about agility as a key aspect of the actual banking industry. Using technology and mobile apps will allow you to distribute the content immediately. Every employee has it at their fingertips, thus accelerating responsiveness, decision-making and reinforcing knowledge.
Gamification for Banking Training, Atrivity App
Atrivity, is used to train banking employees. The app transforms training content into a game based on trivia questions. Through play and light competition employees learn the key information employees need to adapt and perform.
Learn how Atrivity works in 90 seconds
To meet customer's expectations, offer remarkable customer service. That includes being able to supply information tailored to their needs in a fast and understandable way. This information has to include not only what they are looking for but also other information that may be helpful for them.

In order to reach that level of excellence, you need highly capable employees. This is a challenging task in the ever-changing banking environment. Thanks to technology, new training methods like mobile apps, which adapt to banking requirements, and allow you to enable employees in an efficient and engaging way.