The pharmaceutical and health industry is facing great challenges due to the health crisis and the new normality caused by the COVID-19 pandemic. Sales representatives have been confined to their homes for months without being able to visit medical professionals, forcing the large companies in the sector to reinforce themselves with new models for remote visits, online training for teams and accelerating digital transformation plans.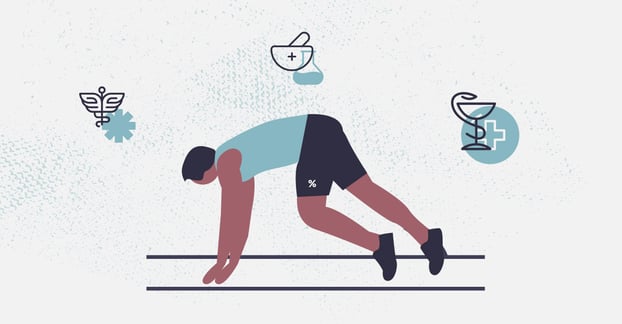 At Atrivity we are aware that employees' distance from their workplace can cause a lack of motivation, lack of commitment and difficulties in conducting effective training. For this reason, in our webinar "Fast-track strategies to prepare your Healthcare sales force for the Re-Start" our Healthcare Business Unit Head Tanya Arch has shared different fast-track plans to optimize recovery from the crisis by strengthening communication and training strategies. Let's get started!
#1 - Reinforce new model of visit
The current situation keeps medical staff busy, making face-to-face visits with the sales representatives impossible. How can you overcome this challenge? Create a plan that reinforces a new model of hybrid or mixed visit from digital tools that maintain constant communication, while allowing you to share product information.

There are mobile applications such as Atrivity, where you can store all the training content in one place or even integrate it with another LMS platform. In addition, you can create an agile repository of information organized by categories, reinforce knowledge through challenges associated with each content in a fun way and with the possibility for doctors in the same area to challenge each other, creating healthy competition.

#2 - Increase customer engagement
Before starting any training activity, it is essential that you select your clients and define an internal communication plan to attract as many participants as possible to the game. How can you do this? Atrivity's experts recommend choosing several internal ambassadors who will be in charge of inviting players to register for the app, while communicating the rules of the game and teams.

Once the above steps are completed, you only need to create and schedule the training content and... Start playing! At the end of the training sessions, you will be able to analyze the results obtained thanks to a knowledge map organized by questions or categories, by team, player or region, and reinforce them later!
#3 - Build fluid communication with HCPs
Because of the current situation, HCPs have little time to attend delegates' visits and phone calls are not enough to make up for the lack of personal contact. You may wonder how you can build a strong and stable communication with them. For example, you can choose a multi-channel approach that gives your customers the possibility to select the channel through which they want to interact with your company.

Inviting health professionals to commit to training games is one of the best ways to maintain constant and fluid communication over time. In practice, the digital approach allows your clients to consult the training material at any time of the day by reviewing the contents several times. As a result you will obtain an increase in knowledge, avoiding the need to stop operations.

#4 - Boost your meetings, webinars and virtual events
The current health crisis is forcing pharmaceutical companies to carry out all kinds of virtual activities. Often is impossible to measure the attention, understanding and knowledge acquired during remote sessions by the attendees. How can you get one step ahead in your remote events? Using tools such as Atrivity, you can design a communication and training plan to attend your virtual events.

⭐Atrivity's example:

Days before your next webinar, invite all participants through the app and send all of the information. Later, during the event, you can play different games to make the session more dynamic, while you measure the level of attention and knowledge in real time! Once the virtual session is over, an excellent way to extend the experience of the event during the following days is to send challenges on the most failed categories to reinforce the gaps in knowledge.
#5 - Remote Compliance Program
Most of the sales force is currently teleworking and they will continue to in the following months. So one of the great challenges facing the health industry during the course of the new normality is to deliver training on new certificates of regulatory compliance, information security and commercial excellence completely remotely. If your goal is to keep your team up to date, you must build a training program that guarantees the correct absorption of the content and a high degree of knowledge.
Source: mifiel.com
Compliance training is usually boring, employees do not learn much of the information and leave the course. Atrivity's experts recommend transforming the enormous amount of information into small doses of content and accompanying the training with trivia games. The use of this type of application allows employees to challenge each other and bring out their most competitive "self", while helping the correct absorption of the content in a fun, dynamic and agile way.
Atrivity's team conclusions
During the current new normality, the pharmaceutical industry faces different challenges and scenarios that require adopting new digital strategies to ensure that employees remain engaged and up-to-date. Strengthening communication and training will make sales teams ready for new marketing approaches by creating a new model of medical visits.