The benefits of using games in business are no secret. Getting such programs implemented, however, is a challenge for organizations. Enterprises throughout the world search for cost-effective solutions that impact business performance while increasing engagement across the organization. In order to meet this demand, apps such as Atrivity are available to "gamify" real workplace processes.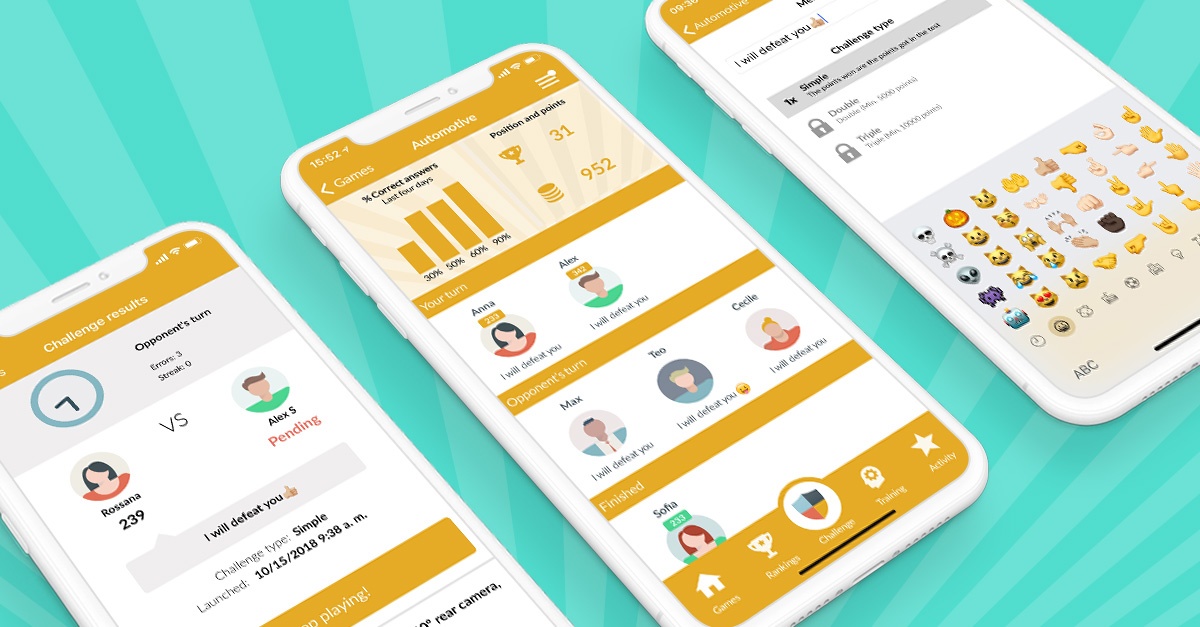 The Atrivity app is a cost-effective solution that reinforces knowledge of training initiatives and enables organization-wide communications to employees and channels. This app, created by the company Compettia, is designed to improve learning through the transformation of relevant content into micro-content. The content is delivered to users in a motivating, fun and effective trivia game.
Real player data proves that Atrivity increases knowledge retention by 25% in 5 days dedicating only a few minutes of use per day.
The growth of Atrivity in recent years has been remarkable thanks to its clients. Until October 2018, there have been more than 6,000 business games, with more than 250,000 players, who have answered approximately 76 million questions!
The main drivers for the new Atrivity product features release are the astounding upward growth and real user data. The new version has been under development for almost a year. With over 5 years of experience, market intelligence and user insights, this latest version is finally available.
The first version was the market test to decide if the product was a "go", "no-go". We saw such positive acceptance and growth, that it was obvious for us to update to adapt to more requirements and new demands, now we have a more powerful app, to offer new gaming experiences with more features. - says Jaume Juan, CEO of Compettia
We interviewed CEO, Jaume Juan and COO Joaquín Lázaro for their views on the ambitious project and the launch of the new version of Atrivity.
Here are the top 10 new advantages and functionalities that this gamification app delivers as they see it:
1) Updated multi-platform interface
Look and feel have been refreshed.
Joaquín emphasizes that ''The new version of Atrivity has a fresher, more intuitive user interface, including usability improvements such as the option to view content in horizontal format, a new menu layout, navigation facilities, and updated graphics''
Jaume points out increased accessibility with the option to download and play Atrivity on more device types.
''Previously, the app was simply zoomed when used on a tablet, now it is not, the app's system is currently designed to offer a personalized experience on every device and every operating system, including a version for PC or Windows Surface, used by so many workers on the go''.
2) Advanced algorithm
The Atrivity advanced algorithm, ensures a more attractive game, greater learning and reinforces knowledge.
''Our algorithm, which works with more than 40 variables and parameters, determines which questions to ask adapted to each player's answering behavior. Machine learning techniques forces the system to learn what it is a player knows and does not know. The result is the repetition of the questions that the user fails most, the questions that appear less, ... and to reinforce those the player already knows'' - Jaume
The Atrivity algorithm constantly improves and establishes rules and parameters to make the game fair, attractive and engaging for all players. "It's like a living being that adapts constantly, clients may not perceive it because they already have it in the application"
3) Communication, information and micro-content platform
New features such as being able to view content horizontally expands the possibilities of the app.
Horizontal display makes it easier for users to read or view micro-content like videos.
''Beyond training, our customers can also communicate longer messages. Currently customers are starting to use it for their internal communications or with their distributors, since they have the possibility of sending rich content (Rich Media), for example, a video that I want to communicate or important information, which will become a game that will increase interest in employees and learning …

... Customers are now creating more content and putting them into our game, for a while we are becoming a tool, where all the training is done within the system (previously used only for the review). Now the unknown contents I read them and I understand them with Atrivity in the form of micro-contents and then review them to finish assuring the learning. - Jaume
4) Change in the configuration web
Atrivity allows its clients, when they choose, to manage, configure and control the games in their entirety in a simplified way.
''Our goal is to facilitate the use of the application, both for the player in the game and the one (game master) who configures it. Customers now have the possibility to independently manage the platform. We have optimised what we call the configuration web to improve usability with communication templates. In this way we help users to create communications in a much simpler way and ensure an attractive and effective result'' -Joaquín
5) More languages
Atrivity allows users, regardless of physical location, to share the game experience and to train in their language of choice. Inspired by the growing number of multinational clients, the number of languages has been expanded to include Italian, Polish, Hungarian, Bulgarian, Brazilian, Turkish, Russian, Greek, Romanian, Ukrainian, Japanese, Korean, Chinese, among others.
Beyond the languages of the app user interface, the platform supports any other language needed for the content.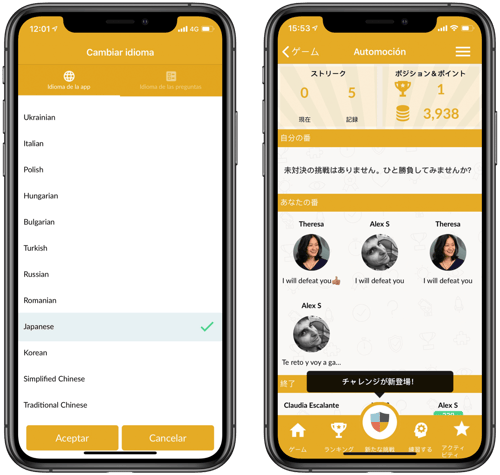 Jaume shares his experience and the importance of this improvement:
''We have already had successful cases running games simultaneously in different countries. Players challenge each other with the same content but in multiple languages. Massive multi-country deployments are now possible with the improved platform. Customers can expand and implement games internationally with the ability to interact and send content without the language being a barrier''.
6) Security and privacy
The security and privacy of the data are critical today. Joaquín told us about the effort made to address this issue.
''This year we invested considerable efforts to adapt the security and privacy measures to recent norms and regulations. We are ensuring a secure platform with respect to confidentiality, the privacy of the data, and the information shared there. We have developed new features of encryption, expiration, and security of passwords for starters.''

7) Possibility to pause or restart
In the long-term game mode the new version considers that not every employee is always available. Joaquin comments, ''Someone may be absent for a few days. Those games were previously impossible to pause. In this case employees could miss out on relevant information. With the update you can restart the game at the point where a player left off. There is also the possibility of enabling the "restart" option in case you want to start the game from the beginning.
8)Personalized messages and emojis
In order to make the experience personal and fun, in the new version of Atrivity you can send personalized messages, Jaume expresses
''Small changes make a difference. Players can now send personalised messages with emojis between players, which will provides much more excitement than just plain text. Imagine sending a message to challenge a partner with a hammer emoji and he adds -"I'm going to crush you!"- this functionality adds motivating nuance to the game''.
9) Invite your friends! For greater diffusion and virality
In this new version, a user can invite another person who does not have the app. This new functionality is a plus for more employees to get involved, as well as the possibility of creating a viral campaign for the final consumer.
''A feature that can change a lot the games with the final consumer and thus marketing teams can carry out a viral, different and differential campaign, since it is a fully interactive campaign with a capacity of greater impact. Even when inviting you earn points, which motivates the player even more to share the experience'' - Jaume
10) Send automatic challenges
One of the successful modalities of Atrivity has been the games between company and employee. Used mainly in onboarding processes, the employee receives automatic challenges.
''The system sends communications from the company, they learn that content, and then respond to challenges to reinforce the knowledge of that content. The platform is able to challenge users and thus improve engagement.

We also have new types of filters, for example, sending automatic challenges to users who are inactive or show low activity. In this way we can encourage and increase participation''. - Joaquín
Learn how Atrivity works in 90 Seconds
Following this massive development project of just under a year, both Jaume and Joaquín extend their thanks and highlight the great effort made by the entire team to achieve this launch.
The new Atrivity experience will give plenty to talk about and will continue to help companies to improve their performance and grow... just by playing a game!