Pharmaceutical companies know the range of innovative technologies available to help them meet pressing market challenges. Developments in mobile, cloud computing, and analytics are helping companies respond to the shifts in the industry. The question is which investments need to be scaled up or down to make pharma product launches a success.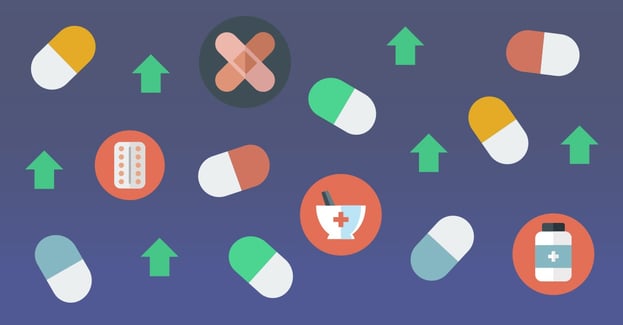 The pharma drug journey from lab to shelf can take on average 12 years and cost around £1.15 bn. Getting the ROI on trials and development costs is a challenge. According to Bain nearly 50% of pharma product launches over the past eight years have underperformed, and more than 25% failed to reach even 50% of external revenue forecasts.
With patients taking more control of their health and performing specific research, pharma companies are changing they way they communicate with the market. Messaging that makes connections between drugs, patients, conditions and increased well-being is crucial. Patients are moving from doctors prescribing a solution for every ailment to being more informed. The increased awareness forces drugmakers to inform consumers in new ways and with new messages. The right technologies are helping to streamline actions for greater market success.
Patients are more responsible for a share of medical costs
Today's patient has a great deal more invested in the game than before. Their research guides their decisions about treatment as well as their selection of provider and/or hospital.
Top-down to patient-first model
Patient first models

2017 was a year that marked a shift for

top-performing pharma companies

to move away from a top-down model of product promotion

Empowering patients with an interactive approach giving patients better tools and more focused information about the drugs they are taking and how to manage their conditions

Drugmakers are providing detailed information to patients and reducing potentially dangerous errors related to taking the drug

minimize the time that patients have to spend managing their disease and navigating the healthcare system

Outcomes-based care is moving to center stage and are tied to

Improving the patient experience of care
Improving the health of populations
Reducing the per capita cost of healthcare
Patients are becoming more engaged
More willing to share information if they see the benefit.

40 percent of participants who are using wearables have either spoken about or shared that data with their doctor


28 percent of providers said they either allow or plan to enable patients to merge information stored on their mobile devices or wearable technologies to the online patient portal they offer

60 percent of providers said they believe that providing patients with greater online access to their personal healthcare information would improve their quality of care

Amid increased competition for the reader's attention, today's content must be fresh, social-sharable and reliable to earn respect and build trust.
Service-oriented experience
Convenience is the new competitive currency. Patients want convenient and prompt appointment times. There is no patience for waiting days or weeks for an appointment. And little understanding about having to "wait in the waiting room." Change has driven a new consumer reality. Patients expect and demand a retail-consumer experience.
Knowledgeable sales reps
According to Kapost, 65% of sales reps can't find the right content to send when they need to get it to a physician in two minutes or post visit.
Keep sales reps energized even after cycle and POA meetings with continuous training

Go beyond one specific therapeutic area and use economic arguments to build greater trust and impact sales

Streamline knowledge sharing with agile platforms for reps to access and engage at their leisure or downtimes

Do knowledge assessments in bite-size learning capsules with Atrivity game app
Digitally empowered patients
Patients research medical and health information, treatment options, provider selection criteria and dozens of other considerations.

Informed consumers post physician ratings online, and to make (or withhold) provider recommendations.

At the same time only 38% of patients say they have enough knowledge about new products, 33% for UK
Omnichannel communicaitons
Pharmaceutical sales reps, medical-science liaisons, and patient-service teams can inform and influence patients, physicians, and caregivers in person or via mobile phones, the Internet, apps, or social media. Each channel serves a different purpose and engages different types of consumers.
74% said the contact center will become more important
More universal healthcare means that contact centers must deal with patients across all age groups, and interact across a range of communications preferences. Older patients will prefer fixed line, while younger patients will rely more on text-based modes, often from mobile devices. To be effective, agents must be able to manage all these modes, sometimes in concurrently.
Provide patient portals for convenient access to their medical records and to communicate with their physicians.
Business processes
Automate and make processes more agile to improve workflows and collaboration to gain efficiencies in delivering knowledge and communications.
Improve employee onboarding, sales and operations planning, launch monitoring, and marketing-content approval with streamlined, automated work flows and increased transparency.
Mobile technology, cloud computing, and advanced business intelligence will foster a new wave of streamlined automation and establish end-to-end workflows with real-time transparency.
Pharma product launch success
Differentiate drug through messaging, post-launch data and services

Create broad customer advocacy via a superior customer experience

Organize each launch as a micro-battle and ensure continuous frontline feedback to make proper ajustments
Successful product launches will leverage the right technologies at the right time to the right audience. Deliver content to external and internal stakeholders when it's most useful or impactful in the sales process.