The coronavirus crisis has left sales teams and store personnel several months out of work. Employees after so long may feel disconnected, disengaged and unmotivated. In addition, they are facing a new normality with big changes and big amounts of information to process in short term about regulatory compliance, health protocol and seasonal collections.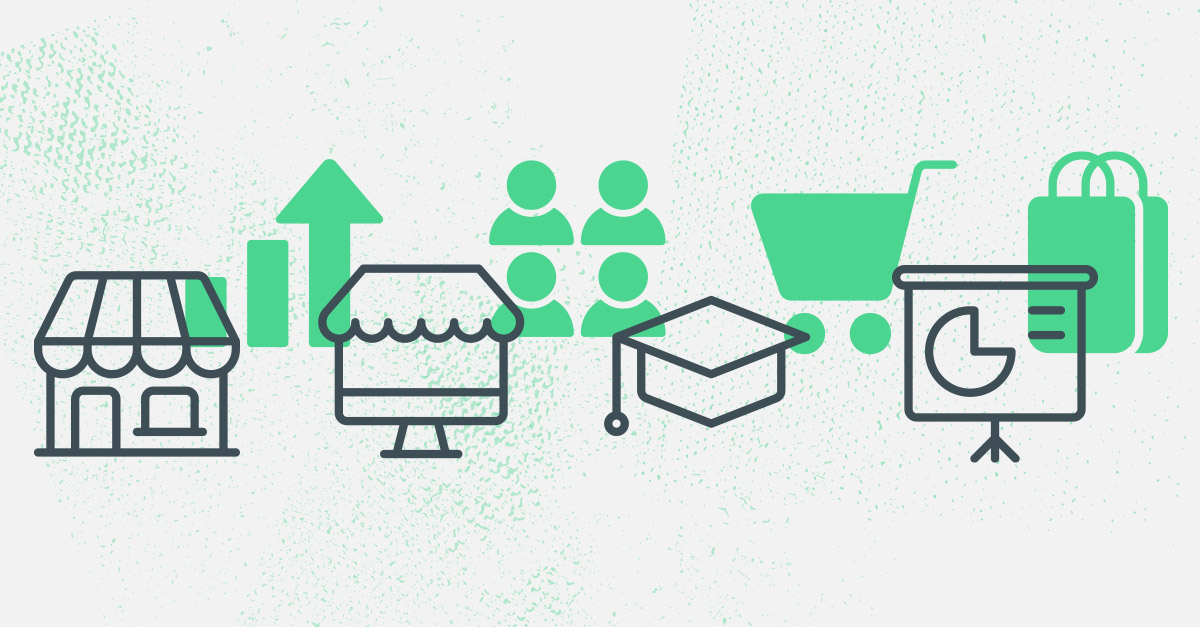 At Atrivity we are aware of the urgent need for retailers to address this situation, so in our webinar "How to Deliver an Impactful Retail Performance Training" our Chief Service Officer Santiago Ubeda and our Retail Industry Director Max Buges explain step-by-step, proven strategies to take the performance of your sales teams one step further. Let's get started!
Plan #1 - Training on specific categories and strategic product families
Most large retail companies train their teams in the traditional way with huge amount of information that employees are not able to learn. The current needs of the sector involve finding a way to link the results of training and the sales figure achieved. The best way to achieve this goal is to deliver efficient and effective training to large stores and departments on a mass scale rather than collecting knowledge metrics by topic, by participant and by store.

⭐Atrivity's solution:
Our experts have helped do-it-yourself, construction, decoration and gardening companies to provide the training content by playing a competitive game among the sales floor staff. Reinforcing the training action with communication campaigns for registration with the store leaders and later, a detailed knowledge map to verify the effectiveness of the training and enrich the post-game sales analysis.
The results obtained thanks to Atrivity's mobile application were more than 1000 people registered, the players invested 1h30min answering more than 500 questions in 5 days and achieving a 25% increase in knowledge. Finally, the efforts in communication and training could be related to the results in sales, which increased by 20% in specific product families.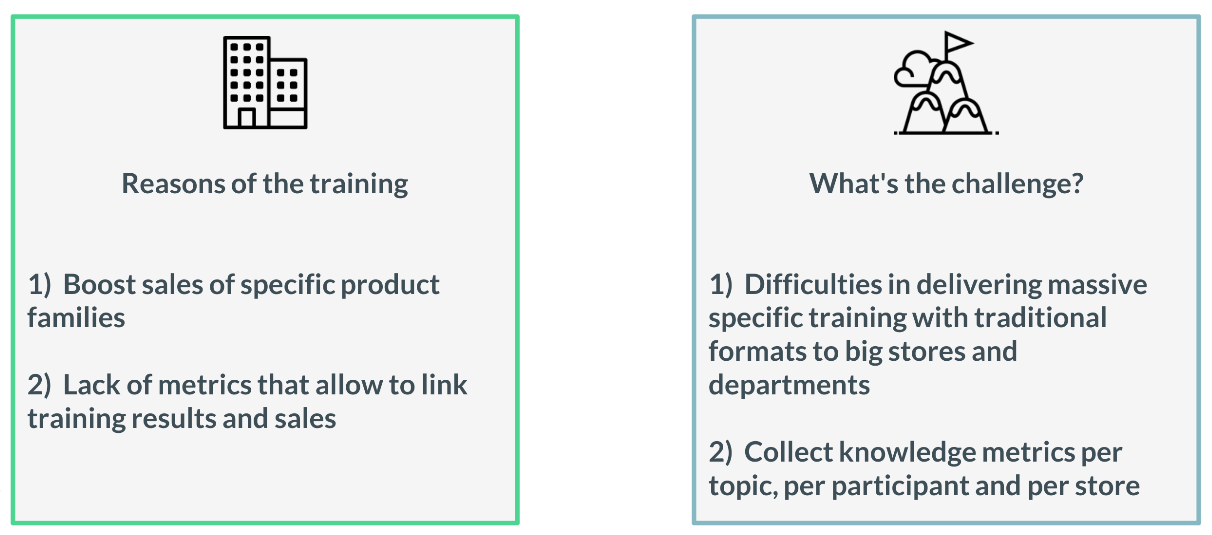 Plan #2 - Changing the traditional training process for new collections
Employees of fashion stores are in a seasonal situation where they must adapt after spending several months away from sales floor. Retailers need to replace heavy training material with an efficient, motivating and interactive format that can be quickly deployed to other countries in different languages.
⭐Atrivity's solution:
Preparing store personnel for the new season involves knowledge of new products, materials, sales arguments, cross-selling, etc. This huge amount of information must be divided into simple and more dynamic training micro-contents reinforced later on, with question and answer games to increase motivation and evaluate knowledge.
Atrivity multi-language app allows you to break down the content into smaller doses available in different languages at the same time. Our experts can help you create a calendar to launch automatic challenges to store employees and finally, a competitive battle between players in all stores with all questions already answered achieving a 30% increase in knowledge.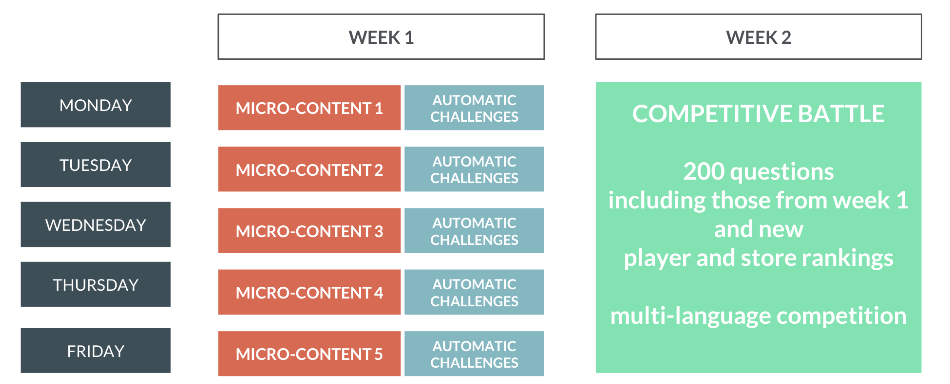 Plan #3 - Culture, values, attitude trainings for all store staff
Disconnection outside the workplace can lead to a lack of commitment, sense of belonging and attachment on the part of employees. We are in an exceptional position where providing an excellent customer service and shopping experience will be vital to build customer loyalty post-COVID19. For this reason, many companies in the retail sector need to successfully reinforce the Decalogue of employee attitudes, bringing the company closer to the employee by relaunching the impact of training that maintains corporate values.
⭐Atrivity's solution:
Our experts recommend that one of the first steps to successfully overcome this great challenge is to design a plan that involves the sales managers to internally promote the training action within each store. Taking care of the details and appointing the managers as internal leaders helps to increase the participation and increase the general involvement of all employees.
Atrivity allows to design the process in a repetitive way to minimize the effort and give the same training to a big number of stores in different languages. Results from competitive games show that over 92% of players sign up for the activity and there is an

in

crease of average knowledge by 32%.
Plan #4 - Global plan for new collections and incorporation of new employees
Companies in the retail sector are facing challenges in giving a quick onboarding to the new personnel to face the new season of collections. Training sessions are usually held in stores, but employees quickly forget all the content offered. Retailers need to train their frontline staff efficiently, ensuring the correct absorption of content and identifying knowledge gaps. Is there a way to measure training assimilation?

⭐Atrivity's solution:
Our experts recommend to complement classroom training during the first week of incorporation in store schools. They can complement the training 100% online with digital applications, which allows to measure the degree of absorption of the training content, and to identify the areas of improvement in the training processes.
One of the most agile ways of transferring all the knowledge to the sales team is through gamification training app such as Atrivity. This is a perfect solution for complementing classroom training with automatic games at a later date, which allows new employees to test their knowledge of products, collections, sales techniques, prices and tools.
With periodic analysis you will be able to detect knowledge gaps, improve the onboarding process globally and achieve a knowledge level of 90% or more for your employees.
Conclusions reached by the team:
The exceptional VUCA situation we are experiencing forces retailers to implement training and learning processes that are agile, scalable and global, and that are also effective and efficient. In order to do so, it is necessary to focus on obtaining metrics that add value during the process, as well as motivating, committing and getting the sales team excited. These are the keys to achieve a competitive advantage that will help impress results in a highly competitive sector such as retail.