Employee onboarding starts the moment the candidate says "yes." New hires are eager and highly motivated to perform at the moment they accept your offer. Structuring the onboarding process to empower employees to work independently is key to establishing a strong working relationship. The mutual commitment will result in the positive ROI you expect from investments made from recruiting to hiring.
Companies spend an
average of £3,000
to pin down the right employee. Keeping the new hire engaged is key to ensure retention. This employee-company matching process continues well after the recruitment process ends. Good onboarding includes small wins for the employee and check-ins to gauge level of engagement to make any necessary adjustments.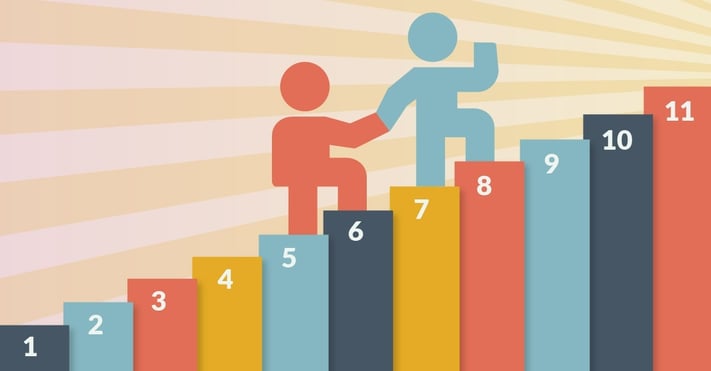 When the economy is doing well, it's a job seeker's market. The pay increase for professionals who decide to switch jobs is the highest it's been in eight years. So for organizations to reap the benefits of hiring, longer onboarding gives the company and the employee the opportunity to build a stronger ties from the start.
Employee turnover is on an upward trend. With a plan in place, companies are better prepared for potential roadblocks to increase employee retention.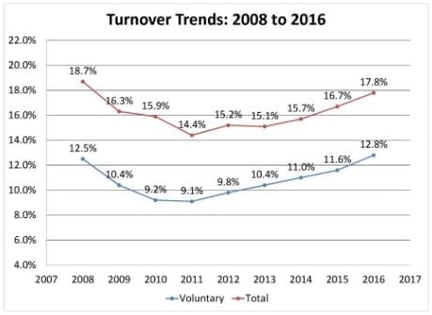 Employee Turnover Facts
On average it takes four weeks for a new employee to feel oriented at the workplace. To master the job, expect at least 90-days and in some cases up to 6 months for the new hire to reach full integration. Poor onboarding can lead to low motivation and losing the new hire to a better opportunity. For the company this means a sunk cost, money spent that cannot be recovered.
In today's high-turnover environment, smooth employee onboarding is key because:
Up to 20% of employee turnover happens within the first month and a half
69% of employees are more likely to stay with the company for at least 3 years after a great onboarding experience (job loyalty is at an all time low overall)
Organizations with top onboarding practices retained 91 percent

of new employees, while organizations with poor onboarding only retained 30 percent

The golden turnover rate companies aim for is < 10%
The national average cost per hire in the U.S. is anywhere from $3,000 to $5,600
Easing employees into the workplace will result in greater employee retention rates and higher performance levels. New hire roadblocks can range from feeling out of touch with the company culture, work environment, and the nature of the work. The ideal onboarding plan responds to these concerns and issues.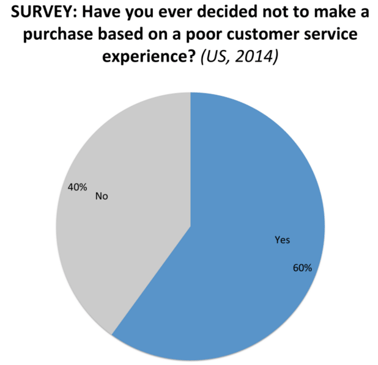 Source: Compensation Force
Follow these 11 keys for your new hire onboarding plan to keep the valuable employee
Make them feel welcome early
Pre-boarding- establish pre-boarding into your plan. It starts the day the candidate accepts your job offer. To ease 1st day on the job nerves, help the new employee feel prepared with relevant links to your company's intranet and a plan for the first couple of weeks.
A couple of days before the start date, send the welcome day agenda with basics like dress code, working hours and schedule for the first week of work. Before the new hire's arrival, send out an office wide communicate with the newcomer's name and role.
Day 1- It is the beginning of a new stage! That's why it's important that you rise to the occasion and implement the right actions. The desk and work area should be ready with the necessary equipment, materials and tools for the job. Confirm text and data to be included on business cards, and have an email signature ready for use. Add a default user name to the relevant communication channels and technology tools with the option to edit. Provide an overview of the company's policies, benefits, holidays and calendar.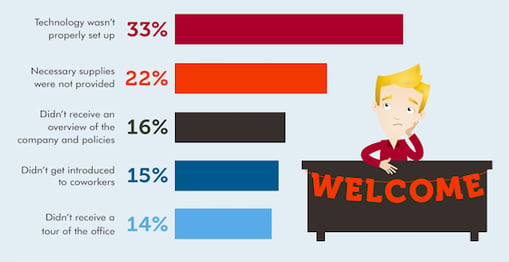 Source: OfficeTeam
Automate or Digitize Parts of the Process
Traditional approaches are expensive and time-consuming. Save time with email communications and electronic signatures. Paperwork signed ahead of time and delivered virtually will make day 1 less mundane. Digitize checklists, company policies and procedures and policies, welcome guide and work calendar. Automate and create electronic formats to reduce cost, errors and complexity.
Maintain the momentum
Wrap-up the small things in the first 2 weeks. Get administrative details, order equipment and tools beforehand. Planning and ordering ahead shortens the ramp-up period. The new hire will be able to focus on fitting into the company culture and learning the trade.
When companies show interest and are efficient at getting the them up to speed, new employees feel more confident.
Integrate new hires
Do a site visit the first day on the job. Take the new employee a around the office or building. Point out security codes and basic services. Personalize the tour with "insider" tips on breakroom use, areas for downtime, transport and best places to eat or shop.
Familiarize with who's who
Provide an organizational chart or a fun collage of each person and their roles. Play a who's who game using an app. Use the Atritvity app to quiz the new hire on colleagues' faces, names, and roles. This will reduce the stress related to remembering people's names beyond the first handshake. Schedule meetings between the new hire and seasoned or key employees to help future coordination and collaboration.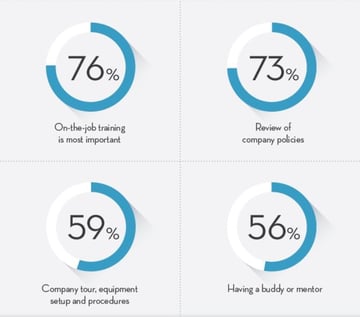 Source: LinkedIn, What New Hires Want
Set expectations and prepare a roadmap to performance
Schedule a meeting with the direct manager within the first three days to review roles, responsibilities and rewards. Organizations get from the employee what they measure and reward. Link new employee tasks to the company's reward measurement and control systems to drive greater performance.
Create a follow-up system for month 1
A virtual follow-up system allows the employee to respond during downtimes and take a break from the day-to-day.
Week 1: Send an email with a checklist on company policies
Week 3: Share a survey to assess company knowledge
Week 4: Gamify a quiz to test competitor or company processes
Month 1 and beyond follow-up with the 30-day check-in meetings
Agree on a timeline that aligns performance and expectations
The Aberdeen Group reveals that 76 percent of companies extended their new employee onboarding beyond month 1. American Express, for example, divides the process into 30-day increments. Breaking down the program in this way allow employees to focus on learning concrete skills to perform specific tasks within a measured period.
30 days. This is when your new hire starts the ramping-up process
60 days. The next 30 days involves collaboration and handing over bigger responsibilities
90 days. The new employee is ready to have the training wheels removed and take on more responsibilities and accomplishing bigger tasks. The employee starts to be more accountable for their own work
Beyond the 90 day mark, program 30-day check-in points throughout year 1. Use these check-in sessions to discover disconnects between skills, expectations and performance.
Apply the SMART goals method: specific, measurable, attainable, relevant and time-bound. This makes a manager and the direct report accountable and sets realistic expectations. These meetings are ideal to address any gaps or looming sources of dissatisfaction:
Does the employee understand his or her role? Is the job what she or he expected? Does the employee have ideas for improvements within the department or larger community? Does the employee feel comfortable with colleagues? Feel like they are fitting in? Are there issues with colleagues that need to be addressed? Does the employee have feedback about your relationship with him or her? What feedback can the employee provide about the onboarding process?
Give opportunities to perform
New employees feel an inherent need to contribute to the business right away. Give a presentation on the company, business unit and team mission and goals. Context allows the new hire to link how performance impacts the business.
Assign a small project that allows the employee to start and reach a goal. Clear parameters will reduce roadblocks. This allows the new hire to assimilate company culture while learning internal processes. Program big projects when they are up to speed and have a good understanding of how the company works.
Be available
Address doubts as soon as they come up during the ramp-up period. You will reduce miscommunication and control errors in this learning period.
At the same time, the new hire gains confidence and greater autonomy. Open a variety of communication channels for either private or public communication. This gives options to field appropriate questions to the right person. Channels include in-person accessibility, open communication platform (collaboration apps), virtual accessibility (email, chat).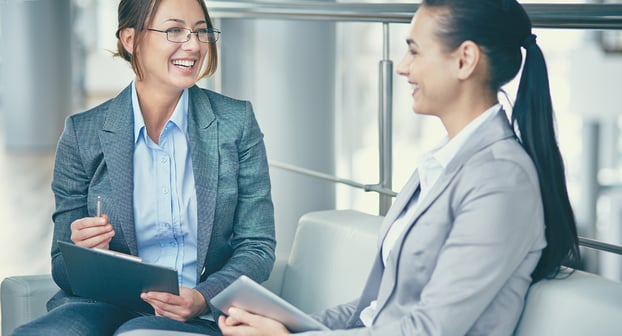 Provide senior management recognition
Appreciation doesn't have to wait until the new employee demonstrates stellar performance. Senior management interaction shows employees that the company cares. Include senior management in the orientation agenda.
An overview of the company's goals and everyday operations gives context and importance. This brief investment of time goes a long way in motivating new hires.
Successful onboarding takes time. Often times it is overlooked due to time constraints and day-to-day demands. Investing the time upfront will result in greater commitment and satisfactory performance.