One crucial component of retail success is maximizing knowledge retention of sales training. It's easy to choose the quickest solution and not prioritize training retention, however the effect of training loss shouldn't be underestimated. This is especially true when you consider missed sales opportunities. In fact, it's estimated that after just one year, some employees can retain as little as 10-15% of what they've learned in training. Imagine the impact on your business!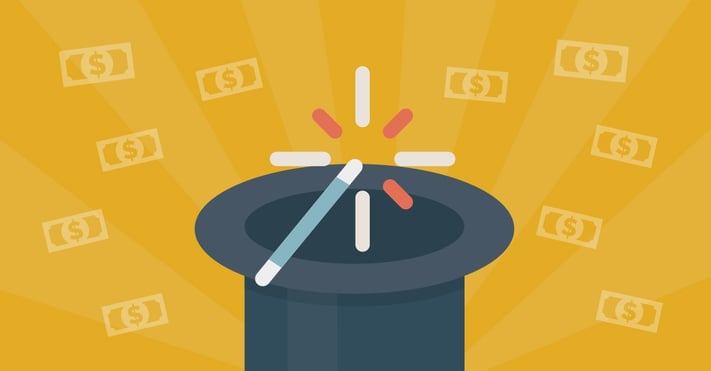 The key is to choose training that will stick with sales reps, and avoid mistakes in the field. As well, implementing a mentor program, preferably digital, will help reinforce knowledge, as will packaging training into smaller, more digestible chunks rather than one big block.
Losing information
If within one hour, 50% of the information we just learned is forgotten, why assume your sales reps remember what you need them to know about your organization's products, services, or even brand image? Training expenditures continue to grow in leaps and bounds (see below), but is the real reason why knowledge retention of sales training is so low?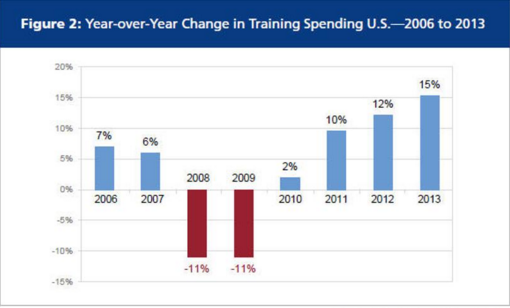 Source: Forbes.com
Most likely your sales reps are only half paying attention, and retaining only a small percentage of what they learn. What does that translate to? Lost sales.
Are you missing out on sales?
According to a recent study by management gurus Bain & Co., more than 25% of in-store consumer frustration (read: lost sales and customer loyalty!) were due to negative incidences with the purchase experience. A similar report from Business Insider found that, "even a single negative customer experience can deter potential customers from spending money with a company," translating into an estimated $83 billion in lost revenue for retailers.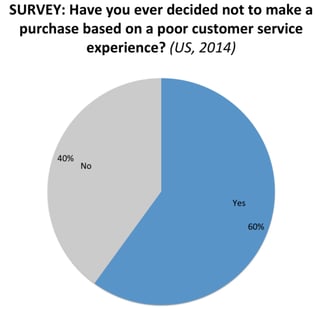 Source: businessinsider.com
Customer service preparation is inherently linked to sales rep training. You spend a lot training your sales reps, and improving knowledge retention and employee engagement is key to improving customer service. These are just a few of the ways poor training can affect your sales by not focusing on retention:
Missing up-selling and cross-selling opportunities
Giving incorrect information or missing details on current store inventory, promotions, style tips, etc.
Inadvertently misrepresenting company values and brand image
Solution? Develop a training program that focuses on follow-up and knowledge retention, in the interest of quality customer service.
Avoiding remedial training
According to research at Columbia University, only 24% of learning effectiveness takes place during the actual learning session, while 50% takes place during post-event learning activities. Instead of an initial mega-dose of training that employees may forget later, build follow-up into your training implementation plan.
View your training as a series of sprints, rather than a marathon, and you'll be able to avoid remedial training altogether. One suggestion is to break training into smaller sessions and build it into normal workdays, with a healthy focus on repetition and analysis of results, to make sure the training is absorbed, and obviate the need for remedial training at a later (and more costly) point.
Digital mentoring to help knowledge retention
According to a study by Deloitte, instructor-led training occupied 35% of a practitioner's time, dropping nearly 9% year-on-year, with the gap being filled by e-learning and self-directed study. While in-person training may be on the decline, having a guide or mentor is no less important to the growth of the employee, especially for help and feedback on performance. In fact, another Deloitte study showed millennials intending to stay with their company for more than five years were 68% more likely to have been assigned a mentor, revealing a correlation between real investment in an employee's growth, and engagement with the organization.
65% of businesses report employee engagement to be the main benefit of a mentoring program
Source: cpiworld.com
Yet assigning a mentor is complicated and can be impractical in high-turnover positions like retail. So how to rationalize this need for personalized supervision with the high opportunity cost of human mentoring?
One solution is to set up a digital mentor, which can keep an eye on an employee's progress, especially in regard to training retention. By tracking retention with a training app with built-in analytics, for example, an employer can give "personalized" attention to an employee to guide progress and reward success, while simultaneously keeping an eye on performance.
Training doesn't have to be all day
All-day training is usually more convenient for the trainer than for employees, but if employees are engaged for shorter but more frequent bursts over an extended period, it's more likely they'll retain information. According to a study by Harvard Business Review, the best way to learn a new skill is to "choose one or two skills to focus on at a time, and break that skill down into manageable goals." Repetition is key here for retention, again with more bite-sized modules.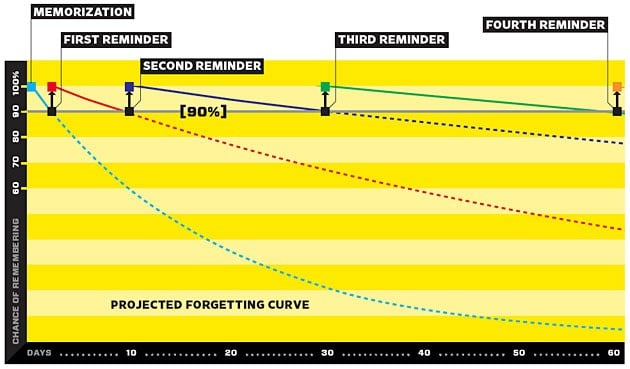 Having a fourth reminder for a new skill results in a 90% chance of remembering it
Source: wired.com
The $2 billion learning management systems market is here to help, but it's not necessary to invest even a fraction of that if you choose simple, yet powerful learning technologies to help your team stay engaged and happy during training.
Five questions to get you started:
Is your sales rep training program designed in a way that will help retain information?
Is the lack of training retention directly hurting sales?
Are you creating training systems that will avoid costly remedial training at a later point?
Are you effectively implementing a digital mentoring program to help sales reps learn?
Have you split your training into digestible modules that can be implemented easily, over a period of time?
---
How Mobile is Holding Up Retail's Omnichannel Reality
How are retailers transcending the retail omnichannel model and using mobile to unify their branding efforts, sales, and customer engagement programs? Why is mobile so important?
Detailed in this whitepaper:
How convergence of online and physical is changing
Are store associates prepared for customer expectations?
How to harness mobile to provide in-store insights