Good talent is in high demand. Winning the battle to retain top employees is critical for organisations to get the expected ROI on new hires. HR managers spend upwards of £5,000 to pin down the right person. To mitigate the risks of incurring sunk costs and losing high performing employees, organisations are transforming the workplace into a global employee experience or EX.
Global talent shortage
Mercer global talent studies predict that 90% of employers foresee more competition for talent, especially in India, North America, and Asia. According to Harvard Business Review surveys show that in 2014, 36% of global employers reported talent shortages, the highest since 2007, and in a more recent 2015 survey, 73% of CEOs reported concern for the availability of key skills. To attract and keep top talent transform the workplace into a culture of excellent employee experience.
Employee experience and impact on business
83 percent of HR leaders see the direct correlation of the employee experience with their success (Beyond). A working environment that enables versus hinder sets employees up for success and produces better performing teams, thus increased ROI.
"Organizations that invest in employee experience are more productive, valuable, attractive, innovative, profitable, and have superior stock performance than those who don't. " - J. Morgan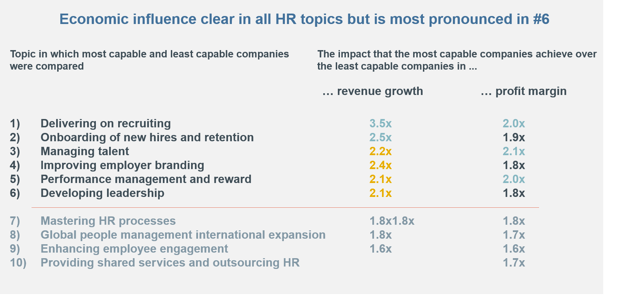 Source: Boston Consulting Group
A BCG study breaks down HR topics that show a direct impact revenue growth and profit margin. A best-in-class employee experience considers each of these topics as a basis for the three key pillars of EX: 1) physical space, 2) technology and tools, and 3) culture.
Companies that commit to streamlining the workplace to be more employee-centric see the impact in heightened customer relations and growth in profits. HR leaders say:
56 percent said they would investing more in training

51 percent said they would work on improving work spaces

47 percent plan to enact more rewards and incentives programs
The culture invites employees who feel part of a larger vision. The physical workplace becomes a place where people want to be rather than where they need to be. Delivering human-centered digital technologies secures higher adoption rates and improved productivity.
HR technologies offer new ways to recruit, work, and learn. Each experience can now be more employee-centered, personalised, compelling, and memorable for increased engagement and better data.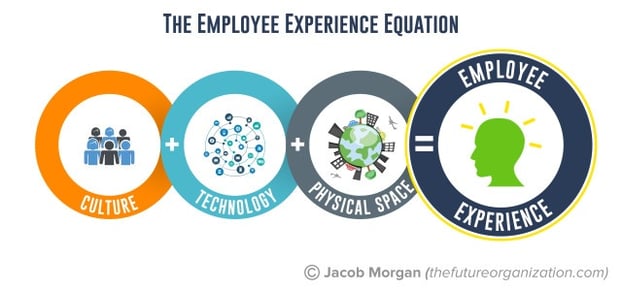 The challenge is that while 90% of executives understand the importance of employee engagement, fewer than 50% understand how to address this issue. Top performing organisations are taking the customer-centered approach already adopted in client relations to transform employee relations. The next phase to raise the bar as a high performing organisation is to create an employee-centered workplace.
This starts with who companies attract and retain them. To get the expected positive ROI, keep in mind these break even numbers on new hires. For millenials the time to break even from date of hire is 2-3 years, while for senior roles, the average is 7 years. Improving stay rates starts with attracting the right candidates.
For the right talent to be drawn to an organisation, image is crucial. In today's social media reality, that brand perception is no longer controlled by brands. People are exposed to more information than ever. Information, photos and sensations shared by peers, colleagues and acquaintances.
Employer branding
Between 2004 and 2008 leading companies like Shell and P&G began to apply the same focus and consistency to their employer branding as they applied to their corporate and consumer branding. In the social media era, potential employees believe what peers have to say over what organisations claim to be their employee value proposition.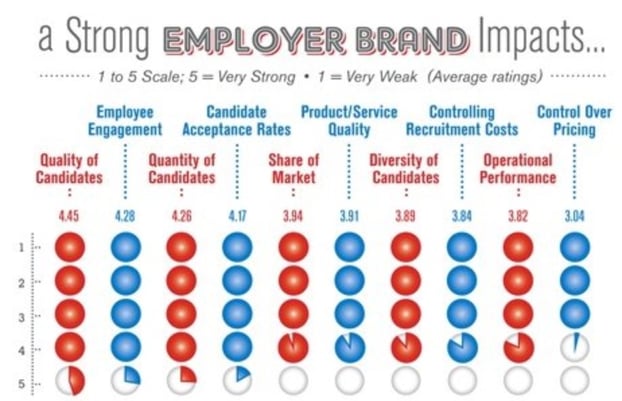 People are more likely to believe what is posted by a past or current employee than what any brand ad may say about themselves. The impact on potential hires is that 69% would not take a job with a company that had a bad reputation, even if they were unemployed.
When asked about the future goals for employer branding 31% of CEOs and senior HR leaders of over 2000 companies surveyed said it would become more important for building a global reputation.
Attracting talent and employee referrals
In the same study 40% of CEOs responding said they wanted employer branding to secure long-term hiring needs. Talent believe more in employee advocacy than recruitment ads. Although employee referrals continue to be employers' top source of hires, delivering more than 30 percent of all hires overall in 2016, fewer than half (49%) of employees would recommend their employer to a friend.
The value of employer branding and its power to attract talent depend entirely on the vitality of the employee experience.
The hiring process
This starts with how a company engages prospective new hires. Top companies are leveraging technology to connect with people. Zulily, a Seattle based e-commerce company selling clothing, toys, and home products, invites potential hires to submit an Instagram post that best represents themselves and what they would bring to the team.
Forbes reports that 71% of employers claim that they can't find a candidate with the right skill set.
Use gamification with a trivia app like Atrivity to make the process fun, gives your hiring process personality while gathering insights about the candidates. Design questions that help filter through candidates by testing knowledge about the sector, sales skills or product knowledge.
Monitor game activity in real time and compare to other candidates. Using tests during in the hiring process gives HR and recruiting managers additional input to efficiently filter, discard and select the candidates to move along the hiring process.
Companies put more emphasis on cultural fit (24%) than job seekers do (15%) when recruiting. In the case of Zulily technology is used as an extension of the social media team culture. Instagram savvy candidates qualify themselves by showcasing their knowledge by using the tool and sending images that stand out. In this sense HR leverages technologies to close the gap. While using Atrivity gives recruiters an edge with more efficient and humanised filters through a game.
These cases highlight just how technology is applied to identify, leverage desired skills and assess knowledge to decrease hiring costs while qualifying candidates to increase match rates.
Onboarding new hires
High potential employees anticipate efficient onboarding programs to ramp up to productivity levels in the shortest amount of time. New hires want to show value as soon as possible. Organisations that leverage technologies to streamline the process engage employees even before day 1. Integrating new employees to be part of company before they step in the door decreases sense of disorientation, increases motivation and allows them to ease into the first day on the job.
To mitigate the costs in losing new hires establish a strucutred and longer program of 90+ day onboarding. Doing so results in:
Increased employee retention: Sixty-nine percent of employees will likely stay for at least three years
Faster time to productivity: New hires become proficient four months faster
Growth in revenues: A five-percent increase in employee engagement is linked to a three-percent increase in revenue
Physical workspace
The physical environment encourages comfort while working. 88% of employees are more engaged at work when they control where and how they work. The freedom to choose a work space to fit a task at hand—either focused work or collaborative work creates a more positive and productive mindset that impacts culture and satisfaction.
Training investments
"The only thing worse than training employees and losing them is to not train them and keep them." – Zig Ziglar
The younger the employee, the more valuable they perceive training to be. Sixty-nine percent of employees under age 40 claimed that training opportunities are an important factor in their decision to stay with their current company/position or leave versus 59 percent of employees over age 40.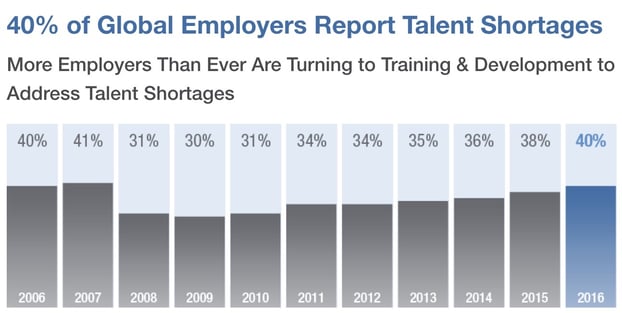 For training success managers and trainers must bear in mind that people learn in different ways. Be flexible with formats and timeframes. Some people thrive in a classroom setting, while others are excellent self-learners, and others still need exercise or goal-oriented training.
Managers are also concerned with the time training takes direct reports away from the floor or facetime with the client. Technologies provide solutions that help employees retain knowledge that increases better performance. Atrivity is a customisable game app that support training on the go. We have seen increase in knowledge rates of 26% per learner and reach up to 50%.
Providing a variety of training methods and media tap into facets of each person and ways each employee engages, learns and retains knowledge best.
Teambuilding and socialisation
Gamifying experiences builds teams with technology. Take MasterCard, BMO Financial Group, Cisco, and Silicon Valley Bank who develop new HR solutions by conducting hackathons to co-create new ways forward with employees.
The hackathons use technologies to bring internal teams together to co-produce the best possible outcomes for the workplace. Crowdsourcing taps into employee talent to create solutions for the workplace. Colleagues creating for colleagues and replacing collaboration models of the past and increase usage, thus engagement rates.
Leadership and development

72% of employees with socially encouraging employers are significantly more likely to help boost sales, compared to only 48% of employees whose employers aren't socially encouraging. (Weber Shandwick research study, April 2014)
Companies need to rethink how they can help employees advance their career. Only 50% of job seekers say that their most recent employer has helped them advance in their career. Employers are focused on promotions (68%) and project assignments (47%) as how they believe they are helping advance careers. Job seekers reported that employers could best help advance their careers through project assignments (48%), promotions (39%) and leadership development programs (35%).
Employers may be recognizing this need because 56% of HR professionals say they seek to enhance their employee experience in 2016 by investing more in employee training and development.
Clearly there is the opportunity for management to build closer ties with team members. Using collaboration technologies to fill in the gaps between 1-1 time supports efficient use of time while increasing personalised attention. The closer the relationships are the better managers will be at detecting disengaged employees and identify opportunities for development and growth.
Conclusion
Reinventing HR processes from hiring to employee experience will harness the power of technology to humanise and link people with people. Today's worker is already highly connected and technologically savvy. The use of digital tools increase productivity and efficiencies allowing for employees to focus energies on the intellectual activities and relationship building needed to boost performance.