Games and technology are changing the way companies train employees. Gamification and game-based learning are effective at engaging employees during training. Technologies like web-based learning platforms, collaboration apps and training software give companies efficient ways to get relevant knowledge to employees. But access to content is only the first step to transferring knowledge to employees. The next challenge is getting them to use, return to and retain the shared content. This is where applying game mechanics to training sessions prove effective. HR and training managers are turning to employee engagement games to increase knowledge retention participation.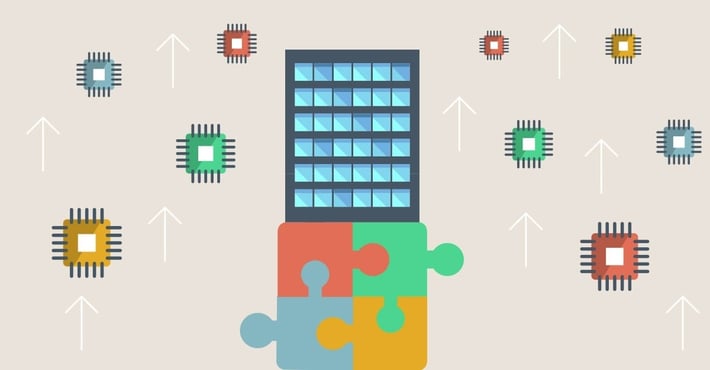 The gamification market is expected to reach a solid $11 billion globally by 2020. Companies are gamifying training to increase employee engagement. Researcher and author Karl Kapp PhD confirms that 51.6% more learners return and engage in learning when they can play a game. Games encourage friendly competition and help maintain high levels of participation.
Since 2010, over 350 companies launched major gamification projects. These include consumer brands like MLB, Adobe, NBC, Walgreens, Ford, Southwest, eBay, Panera, and more -Huffington Post
Target and Omnicare improved employee satisfaction while reducing training costs through the direct use of gamification -CIO.com
Learners who gained skills through gamified elearning courses scored 14% higher than those who learned through traditional methods -University of Colorado Denver
80% of learners feel that workplace game-based learning could make them more productive -Talent LMS
More than 60% of learners said that leaderboards and friendly competition would motivate them -Talent LMS

The more engaging the learning medium, the more excited an employee is to learn. The more prepared the employee, the more excited to perform.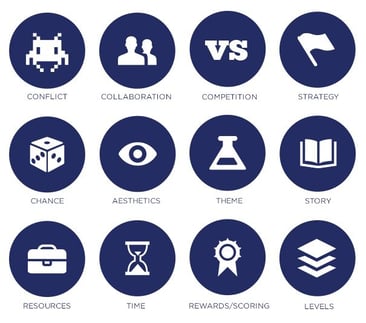 12 elements used to gamify content, Source- The Knowledge Guru
Participation-rewards schemes are not new to motivating learners. Educators use game-based learning to motivate students. Game mechanics are applied with contests and incentive programs to incentivize sales teams . In business, high performers are rewarded with monetary or other extrinsic rewards linked to performance, but not to knowledge.
Game technologies allow motivation to be related to more intrinsic rewards that also support organizational goals. Knowledge retention, cultural integration, collaboration, and team-building are some goals that can be reached with technology based games. Leaderboards, rankings, scores and social sharing create excitement and exposure that encourage participation and performance.
Research shows that intrinsic rewards are far better than extrinsic rewards at creating higher levels of engagement and better results. Game content development for the Atrivity game app starts with the learning or business goal and encourages challenges on knowledge between employees. The participants are in turn rewarded with points, social recognition and ranked results. Using games increases knowledge retention and employee satisfaction while reaching business goals. Gamification and game-based learning make learning interactive, entertaining, and memorable. Each approach to gamifying training keeps employees returning to business goal-oriented content. To decide which matches your company's training needs, it's important to understand the differences.
Gamification turns the process of learning into a game:
Apply game mechanics to existing content to engage and motivate the learners
Passive systems become interactive
Might include a collection of tasks or completion of steps linked to rewards
Key principles include points, levels, rewards, leaderboard, achievement badges, feedback loops
It is usually easier and cheaper to introduce gamification in learning
Many gamification models reward the user for completing a task. A leaderboard motivates users to strive for further improvement. These elements result in a gamification platform with high levels of engagement and a greater willingness to return.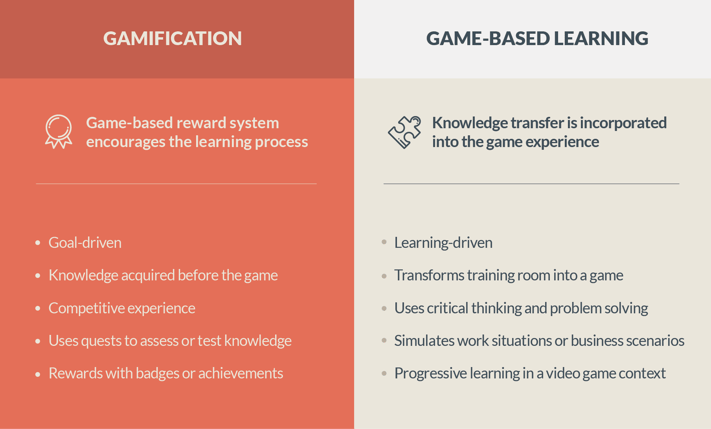 Game-based learning takes a game and uses it to enhance learning:
Game-based learning aims to teach a concrete skill or to achieve a defined learning outcome

Game-based learning includes the content which is created to fit the story and scenes of the game

Draws learners into the relevant virtual environments that they are familiar with

It is usually difficult and expensive to build game-based learning
Learners get an interactive game with training content added on or woven into it. A common game segment presents new elearning material at the end of each stage. The game helps to boost engagement levels as the user works through the content.
Employee training that includes elements of game theory or game play with the aim to accomplish a specified set of short term or long term goals is game-based learning. As video games become more advanced, there are greater opportunities to use them in a learning context.
The interactive nature of games make them more entertaining than traditional learning methods. A well-designed structure with continuous fresh updates and relevant content is key for gaming to work- Brian Burke, Gartner Group. The ultimate choice between gamification or game-based learning will depend on your business goals, resources and training needs.