Compliance training is designed to mitigate costly mistakes caused by legal breaches. While no federal training regulation applies to all employers, certain laws and agency regulations may apply to specific industries or employers. How can organizations effectively transform the workplace into a culture of compliance to minimize risks?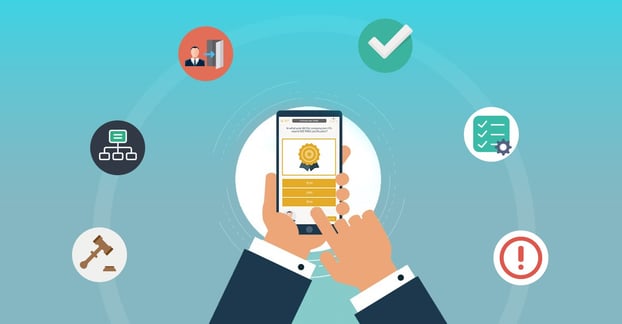 Compliance is the new corporate governance, says Sean J. Griffith of Fordham Law School. Resources are moving from legal to compliance and ethics with a median budget per 1,000 employees of $97,333 - up 15% since 2012 (CEB).
Regulators like the Financial Conduct Authority (FCA of the UK) do substantial work on influencing corporate culture to be compliant. The U.S. Food and Drug Administration (FDA) monitors regulated industry's compliance with the law through surveillance, inspections, and investigations. But the ultimate responsibility to get employees to adhere to laws and regulations lies with the firm.
Chief Compliance Officers (COO) oversee best practices that impact workplace behavior of hundreds to thousands of employees. Cost-effective delivery methods of regulatory information to each and every employee is key.
Knowledge transfer is one challenge, the other more weighty concern is knowledge absorption. How can compliance trainers get workers to pay attention and recall topics such as national and regional regulatory requirements, risk mitigation, transparency, reputation, and code of ethics? These topics require memorization, making compliance training tedious.
Boredom is the major barrier to knowledge absorption and retention. Compliance officers will turn to engaging training methods to reach company goals of minimizing citations, violations, and increasing overall standards.
One client compliance officer of a major European-wide retail chain found that his greatest competition for attention is the smartphone. Rather than pay attention to the mundane, dry compliance training content, attendees turned to their mobile devices to stay awake.
"(This is) a major problem with compliance training, but with Atrivity we found that attendees stopped everything to challenge each other on the major distraction device." - Compliance Manager, European-wide retail chain.
Here are 5 tips on how compliance teams can increase employee engagement and knowledge retention.
Make it interactive: A competitive game with periodic trivia challenges structures otherwise dull content in a fun context to promote faster memory recall.
Tie back to risks: Show cases of impact on the company and economic threats.
Connect to real life situations: Relate compliance to day-to-day activities and ask volunteers share personal experiences, consequences, and resolution.
Certify training: Make training a requirement with completion certificates by topic. Breaking down content into microtopics makes information more easily digestible. Certifications also serve as incentive and can satisfy some auditing requirements. 32 % of CCO's always require training or certification (Deloitte).
Publicize completion boards: publish employees names with completed certifications by topics. A social aspect drives employees to participate, serves as reminders, and motivates others to follow.
Compliance training has gone beyond a tick box exercise. HR teams and compliance officers are extending the scope of compliance training to become part of a broader strategy that fosters a culture of compliance.
"Organizations are ultimately responsible for creating a #workplaceculture of #compliance."
To stay competitive organisations will monitor changes in the marketplace, products and regulations while considering the skills, expertise, technical knowledge and behaviour of their employees, as well as their ability to apply changes in practice. Delivering through a game app easily incorporates new topics, gives the interactivity to combat boredom, and the timely and global reach large firms require to keep all staff up-to-date and compliant.