Imagine utilizing games to help generate millions of dollars of additional sales profit for your pharmaceutical launch. Not just any games, mobile games that are engaging, convenient, bespoke in nature, and geared towards maximizing knowledge transfer and retention.
Sound too good to be true? Mobile gamification and sales training app Atrivity have the data to prove that this is possible:



Atrivity studied 49 of the world's leading pharmaceutical companies and their gaming habits. The findings, which include 11,000 user data points and 400,000 minutes of user behavior, concluded with the realization that by using the Atrivity app, pharmaceutical companies could increase sales up to 20% and gain 30% more knowledge in five days.
The key to this success is a mix of gameplay, customization, and retention-focused habit building, all rooted in a user-friendly experience. Now imagine adding similarly useful apps to your pharmaceutical sales tools. With the right balance of leading apps for the pharmaceutical industry, you can assemble, train, and engage a lean and productive sales team.
The Ideal Pharmaceutical Sales Tools
Sales stacks can get messy and right now there is more noise than ever. In 2015 alone, 317 inside sales startups with $10B in funding hit the market. Out of these 317, areas of focus included engagement, sales intelligence, productivity, analytics, and people management.
This data suggests that more and more companies are turning to digital solutions to facilitate the sales process. Face to face meetings are increasingly becoming less necessary. The pharmaceutical industry is no exception, although traditionally rooted in personal interactions. Technology has swept the pharmaceutical industry, with 81% of pharmaceutical companies turning to apps for training and in the field.
When creating your pharmaceutical sales tools, make sure to focus on a few key categories:
CRM: help organize all current and future client communications
Training: gamification, e-learning, information transfer
Communication: phone, video, internal messaging apps
Technical: include screen sharing and remote meetings apps such as Skype
Administrative: contracts, document signing, and document transfer
Social: social media and other networking apps
Data and analytics: sales intelligence, upsell and retention, accounting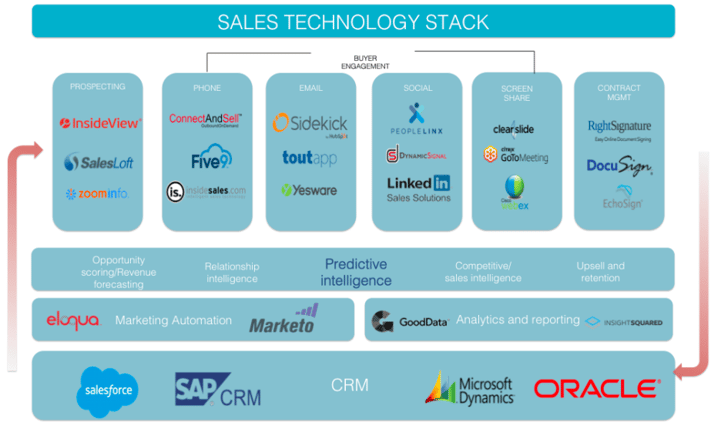 Source: saleshacker.com
With most of these apps, you can integrate them into your pharmaceutical sales tools at any point of your sales process. Many synch with one another and utilize cloud technology to allow remote access to data and saved documentation. The choice of what apps to choose is ultimately dependent on a sales team's goals, structure, budget, and other considerations.
Most of these apps include an aspect of measurability when applicable. High-performing sales teams are 3.5 times more likely to use sales analytics. Automating the tracking and analytics process is key to strategic planning and helping hit intense pharmaceutical sales quotas.
Productivity and Time: The Glue of a Perfect Sales Stack
When looking at the sales technology stack above, one thing is common – more productivity is generated through time saved.
For example, DocuSign eliminates the need to fax or mail important documents, allowing two parties from across the world to sign and verify a document in under five minutes. Powerful data tools such as GoodData can collect and analyze large data sets and create actionable recommendations from them. Atrivity allows training to be conducted "on-the-go" at the convenience of a sales team. This eliminates historically long and mundane training sessions while adding measurability. Less overhead, more time, increased productivity.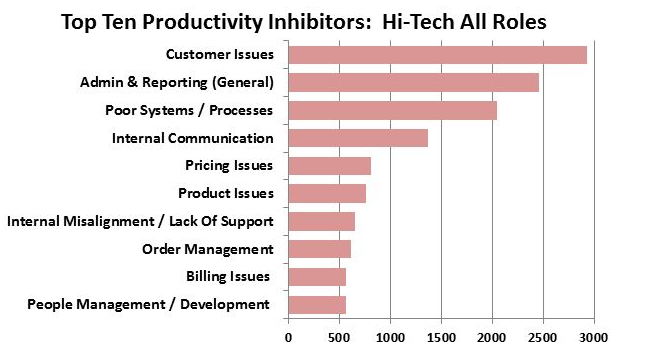 Source: alexandergroup.com
As seen in this graph of common productivity blockers in technology roles, many of the productivity inhibitors listed are directly solved with the app categories and apps used in a tech sales stack. Besides a near perfect product-market fit, app developers keep user experience at the core of their strategy- ultimately a win for end users in the pharmaceutical industry.
Quick Takeaways
A pharmaceutical tech sales stack should be robust, adoptable, and tailored
Include multiple app categories that focus on time savings and productivity
Find and use apps that track and measure data when applicable
Use mobile technology to change outdated sales training and communications
It never hurts to have a little fun! Enjoy the benefits of gamification apps
Optimizing Pharma Sales with Mobile Technology
With a $1.05 trillion market cap, how are today's world-competitive pharma companies using technology to accelerate and enable sales?
5 Benefits pharma companies seek in mobile apps
Do mobile apps really work to accelerate sales?
Pharma sales costs and trends
Atrivity case study: how to increase sales 20%
Key takeaways & statistics