Retail sales associates are expected to perform almost immediately. They're exposed and deal with customers within days of getting hired. But in order for new hires to meet store goals they need to feel confident on the salesfloor. Treat retail onboarding as a process beyond a single day of orientation and checking off tasks from a checklist. To ensure quicker time to productivity which is demanded by retail sales, focus on two main goals: knowledge transfer and cultural integration.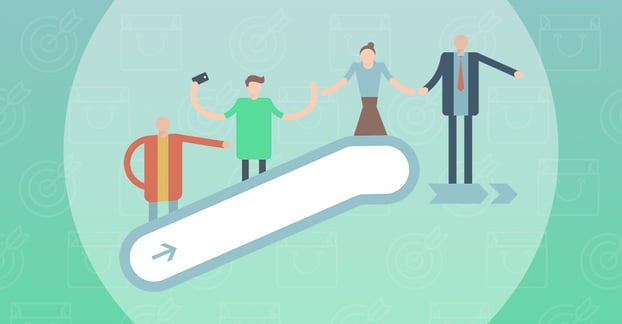 Retailers do not overhire and rely only on the minimum number of employees to cover the hours the store is open to the public, hence the pressure for new hires to ramp-up as quickly as possible. For a number of retailers onboarding stops at paperwork and a quick orientation to get sales people selling immediately then off to the salesfloor to learn as they go. This leads to higher turnover as new hires feel disconnected from the company are just simply unprepared to meet the sales targets.
The retail sector has been experiencing staff turnover at a rate of about 5% per month.

Retail has one of the highest turnover rates in any industry. The Hay Group reports a median turnover rate of 67 percent for part-time retail employees.

Turnover is at its highest among hourly store employees: 65% in 2016 against 57% in 2015
To combat high turnover and empower sales associates to reach your forecasted sales targets implement a structured retail onboarding program. Engage new sales people early and on an on-going basis until employee has reached the confidence needed to deliver the customer service needed to meet and exceed in-store goals.
A proper retail onboarding program aims to incorporate the new sales associate from the candidate experience while interviewing through the retail training process.
Cultural integration
The most successful sales associates will feel part of the team and believe in the brand. Cultural integration is the first step to giving new hires the confidence to interact with co-workers and with customers.
Start before they walk in the door

Welcome letter: how to get there, who to meet, proper attire, links to online administrative documents

1st day details: agenda and onboarding schedule

Assign a buddy or mentor: give the new employee a person's name humanizes the process early on

Onboard before seasonal peaks

Don't rush the process: schedule the incorporation date when there is time for socialization

Learning on the job: down times without the high pressure of busy season are ideal for on-the-job training. Less chances of errors.

Branding

Communicate messages and promote in visible spots in the workplace

Customer service aligned with brand
Align messaging and how people talk about the brand
Create messages associates feel natural saying, such as

"Welcome to our store! If you're here for our February Clearance Sale, all of our sale products are in this aisle."

Build relations

Informal meetings of team members

Formal meetings in training sessions

One-on-one meetings with your individual employees regularly for immediate feedback
New sales associates need to feel part of the team and understand their personal contributions the store goals. This is the time to instill employer branding and communicate the company culture.
Knowledge transfer
Leverage digital and mobile options for scale and reach.
Go paperless

Send information early and to an email account with links to key information about the company history, philosohpy, and policies.

Give access to core training materials and updated content.

Create a digital checklist

Step-by-step checklist for the new hire to follow the program and to stay on track

Mobile platforms

Easy and convenient access

Microlearning

Accessible reinforcement and refresher training
Bite-size training content capsules for easy to digest information that can be absorbed at downtimes

Product knowledge

Specifications, ingredients, materials and unique aspects

Relevant services

Promotions of sales and sponsorships
Good retail onboarding will ensure a match between new hire and your brand. When done properly the employee will have the confidence through established working relationships. Secondly, the knowledge transfer must be effective and efficient to encourage engagement with key information needed to perform quickly.