FinTech or Financial Technologies are technologies applied in the financial services sector. RegTech, short for regulatory technology, is a sub-sector of the fintech industry, particularly following the aftershock of the 2008 financial crisis. Since the crisis, the US government has passed key legislations, such as the Dodd–Frank Wall Street Reform and Consumer Protection Act, to decrease various risks across the US financial services industry. Since the crash, regulatory changes have increased 492%.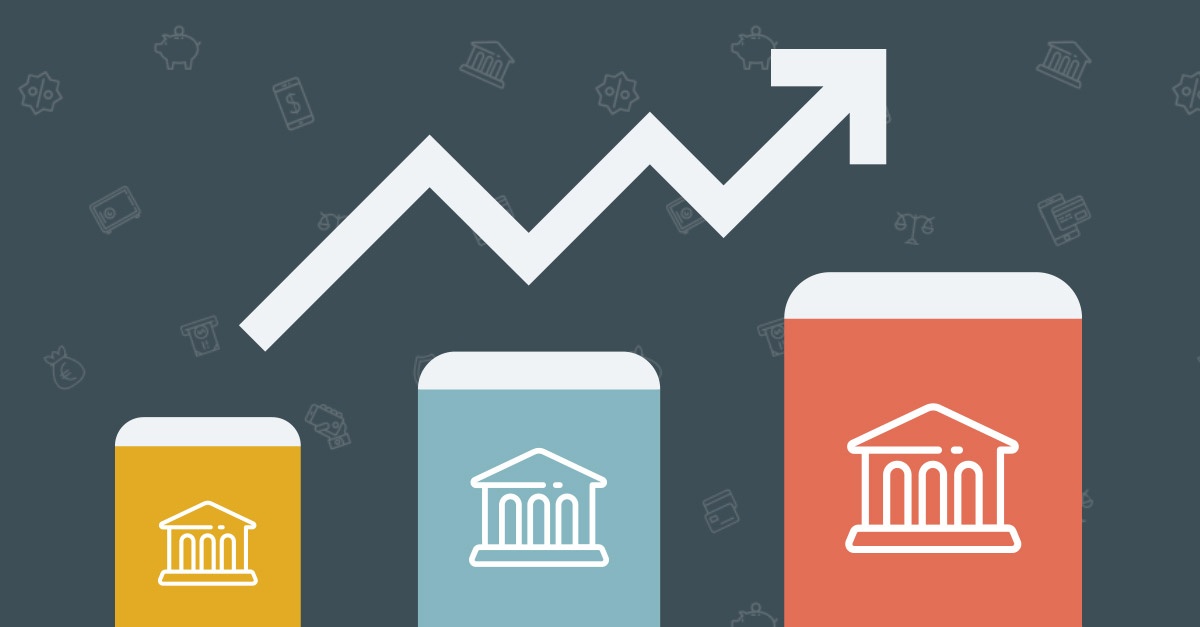 In the wake of increased regulation, banks have turned to specialized companies and solutions to help optimize their internal governance procedures. These include compliance and abidance to regulatory provisions.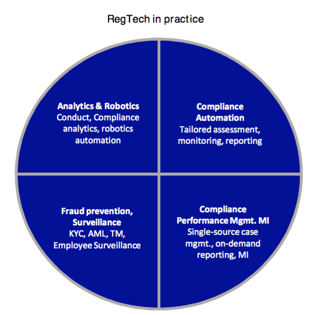 RegTech Was Created to Address a Growing Need in the Market
In 2013, the six largest banks in the US spent a combined $70.2 billion on compliance. This is almost double the 2007 figure of $34.7 billion. Globally, since the crisis the world's largest banks have spent north of $4 billion annually. This massive spending has come at a cost – banks are now at great risk of large fines for every compliance mishap.
Between 2009 and 2015, US fines and settlements in the financial services industry peaked at $204 billion, paid out in 175 settlements. This has led to a huge hiring spree of compliance professionals. It is estimated that 10-15% of staff is being dedicated to compliance at most large financial institutions.
The RegTech market was founded on the goal of automating compliance tasks, such as training and risk management, to help make the process more efficient, people friendly, and overall cost effective.
Some of these solutions include:
Real time analytics and big data
Risk management and monitoring
Fraud prevention and security
Blockchain and transparency initiatives
Financial technology and processing
Finding and Integrating the Right Solutions
RegTech solutions can be extremely technical and algorithmic. They must process large amounts of data to manage complex risk portfolios. Some banks attempt to build internal RegTech initiatives, but most source third-party providers. Together these various parties combine to form the RegTech ecosystem: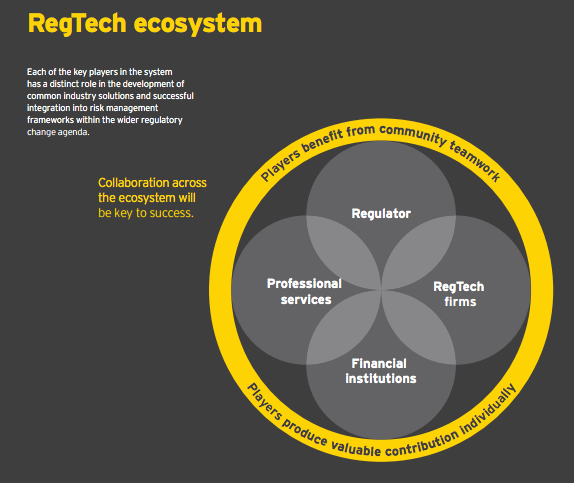 In November 2016, Goldman Sachs co-invested $16 million into Droit Financial Technologies. Droit's technology ensures that all trades are under proper compliance by producing automated trading decisions. This is crucial to Goldman's high-frequency trading operation which is largely automated.
Depending on a bank's goal or critical gaps, different solutions may be combined to produce an arsenal of business drivers. For example, mobile applications can be used to slash compliance costs by optimizing onboarding and training for compliance and general bank staff.
In this early stage of RegTech, the overall goal for the financial services industry as a whole is to innovate to provide mutually beneficial regulatory solutions that can allow banks to focus on their key competencies. The key is doing so while remaining competitive, a delicate balance for most banks.
The Future of RegTech in Banking
RegTech is not going anywhere anytime soon. In fact, an Ernst & Young report states that banks and financial institutions are currently molding the RegTech foundation that will create long-term benefits in banking.
These benefits include:
Improved systematic governance
Enhanced regulatory reporting
Positive customer onboarding and experience
Reduction of compliance costs
Proactive risk management through data analytics
Automization across the board
Despite the positive uptick in adoption, the industry is still very nascent. A 2016 Investit survey found that 70% of firms believe they are well prepared for future regulations. Yet, 71% of firms have not considered the use of Regtech. This mentality, arguably, is what led to the failed safeguarding of the events leading up to the financial crisis.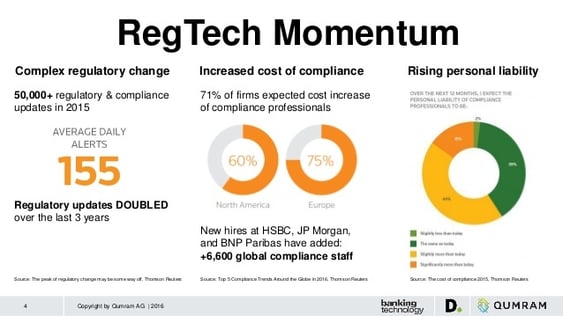 As the industry matures and the macro benefits are exposed, more and more firms will begin adopting innovation. At the very minimum, the automation and cost savings will be attractive enough to convert most cost-conscious banks.
Banks should look to incorporate products and software that are agile, fast, easily adoptable, and analytics focused – especially as banks are expected to spend roughly $20 billion on new technology through 2017. With a budget to explore RegTech solutions, banks can harness the power of technology to create a safer, more transparent, and automated process that will alleviate current regulatory pitfalls and rising compliance costs.
---
How are financial institutions onboarding employees in a time of increasingly complex compliance and regulation? What's technology's impact and how are companies already using it?
State of the industry's technology
Banks & mobile apps: can they benefit?
Onboarding and innovation in banking
Onboarding implementations
10 facts on retention, training, and talent sourcing
Exclusive TLDR summary