The current state of the automobile industry is rapidly changing, with the standard of new model and car launches also shifting. A rise in consumer demand, industry consolidation, and disrupting technology are putting pressure on automakers to lower their time to market. Instead, they must adequately prepare for potential sales spikes and shifting consumer wants.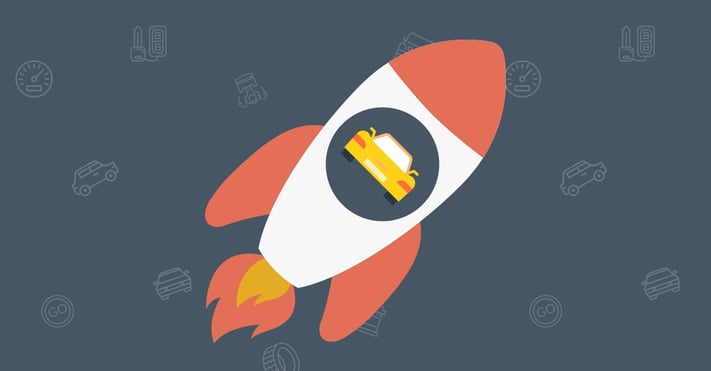 Between
2012 and 2016 a record 500 global car launches
were predicted, while 2016 set a new sales record in the US with
over 17 million cars sold
. With this rise in activity also comes the looming
autonomous vehicle takeover
which is predicted to change the industry and our roads as soon as 2020.

In the chart above, there is a noticeable decline in USA based car launches in 2020. This correlates with expected technology advancements slated to be released around that time. Essentially, automakers are having a difficult time scoping product roadmaps too far in advance. This is due to both new regulations being passed and tech advancements.
Despite these changes, there are a few commonly predicted product launch trends that can shed light on the proper strategic approach automakers should adopt moving into the future.
Changes that Will Have an Impact on Car Launches
1. Rise of Supplier Networks in Low-Cost Centers
The number of automobile transactions valued at over $500 million or more has risen more than five fold since 2013. Rapid industry consolidation is creating a landscape that will soon be dominated by global OEMs (original equipment manufacturers) and suppliers based in these major markets: the US, India, China, Korea, Western Europe, Mexico and Japan.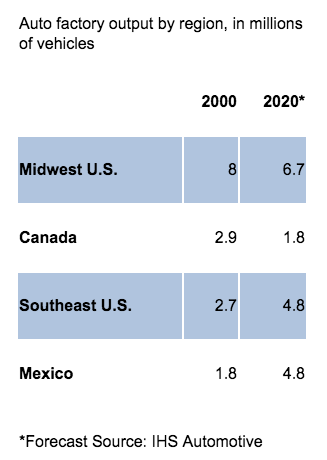 Mexico is also slated to be one of the largest producers of vehicles in North America, going from 1.8 million cars produced in 2000 to almost 5 million by 2020. The strategic shift to low-cost regions to produce cars will bring a few different challenges:
Production quality and quality assurance in low cost regions
Shifting the mindset of current suppliers to explore alternative markets
Identify and explore joint ventures with local companies to aid in local manufacturing
How to seamlessly replace existing suppliers with local companies
Over the next decade, automakers and OEMs will face a challenging task of building out and locating extensive supplier networks to help satisfy more product and feature releases in the shortest amount of time possible.
2. Replenishing and Training Talent
As technology becomes more prominent in the production process, automakers are facing a severe shortage of talent to help push innovation. This becomes an even bigger challenge when working with suppliers in low-cost foreign markets. A comprehensive study released in 2017 by the Workforce Intelligence Network describes how the changing automotive industry is causing a large shortage of qualified AV workers.
Manufacturers and tech firms are forming specialized teams that are growing rapidly and in need of qualified talent – the problem is the same profiles, which are in demand, are being fragmented into the industry and also pulled into completely different industries.
Training and hiring expectations will increase as skilled workers will be needed across the globe.
3. Shorter Time to Market Expectations
The idea behind shorter time to market expectations is simple. Automakers need to go from zero to maximum output faster for new models to help clear inventory and make sure new models are at the forefront of their current product offering.
Nissan is a great example of how automakers are optimizing their operations and overall production process. In 2007, Nissan was launching new models in just 12 weeks – that same target has accelerated to just 6 weeks in 2017. Automakers are looking for standardization to help create efficiency in new model releases.
Downsides of these speedy expectations include shorter time frames for suppliers to pay back investments, the need for expedited training programs, and quicker integration of new technologies. Additionally, competition is fierce as foreign automakers flood North American markets. From 2014 to 2016, at least 14 German automakers invested $191 million in Georgia to build new auto plants.
Solutions and Proactive Initiatives Automakers Can Take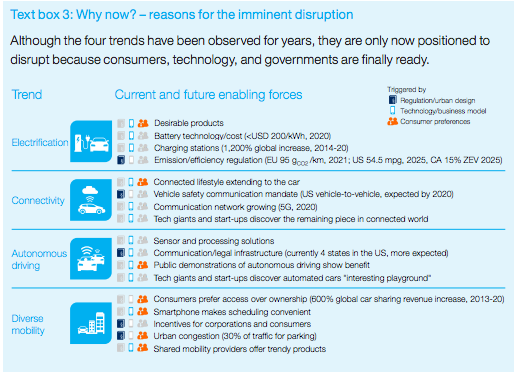 1. Stay Ahead of the Curve
Disruption is imminent in the auto industry and automakers need to stay ahead of the curve by understanding what is happening in the industry, listening to consumers, and making sure they have the training and resources needed to create a competitive workforce.
Autonomous driving, connected vehicles, and software will replace traditional vehicles and processes. Product roadmaps should recognize the impact of such technologies so automakers can properly plan and execute car launches that are current and cost-effective.
2. Understand Localization
In emerging markets, 61% of suppliers say that mergers and acquisitions will play a central role in their future strategies, which ultimately reflects the speed of growth in these regions. Western automakers will tap into local supply chains to start building out their value chain, lower costs, and increase the speed of production. Understanding these markets is critical, including local workers, regulations, and infrastructure.
3. Embrace Technology and Strategic Partners
Automakers should embrace technology, build internal teams and initiatives to promote innovation, and most importantly seek strategic relationships with tech companies and other manufacturers to stimulate growth. New competition will emerge as tech giants (Google, Apple), mobility providers (Uber, Zipcar), and emerging OEMs (Tesla, BYD) increase the complexity of the auto industry's competitive landscape. This competition should be viewed from a positive and collaborative perspective, rather than negative.
---
How is technology redefining automotive manufacturing and product launches? From the consumer, to the competitiors, to the new way to market and the future ahead of us.
Is automotive technology important for end consu

mers?

Balancing consumer demand & competitive advantages

Autonomous vehicles

Future of automotive product launches

Preparing for the future

Exclusive TLDR summary