Over the past ten years HR leaders' roles have become more strategic requiring a shift from administrative tasks and organising paperwork to measuring success and business impact. The rise of HR technologies and recruitment tools are helping professionals to tap into talent pools and manage the hiring process.
Here's our list of innovative and relevant HR technologies that support recruiting activities from operational effeciency to strategic implementation.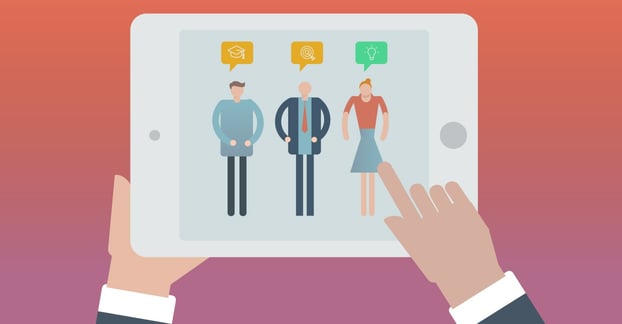 Anonymous review sites
Candidates turn to anonynmous review sites to get a peer-to-peer picture of what it's like to work a specific companies. Recruiters need to know what is being said and how the company brand is perceived in the market. These sites play a crucial role in employer branding.
Job seekers want to get as comprehensive a picture as they can. The reviews and ratings help potential employees complete information gathered from other sites, friends, college counselors or colleagues.
Authenticity and validity are the core values of these sites and taken very seriously. So they make every effort to ensure that technological and human review work in tandem ensure the highest quality.
The majority of review sites allow employers to claim their profiles and validate information. Comparably presents candidate data and allow employers to claim profiles, confirm information, audit, respond and build corporate content to provide a more complete picture to potential hires.

Glassdoor take an extra step to deliver on high quality employee experiences by flagging reviews they feel do not fit or benefit the community. Recruiters at Nissan, Roche, Comcast, Genentech improve their employer profile to give job seekers a more global view of the company.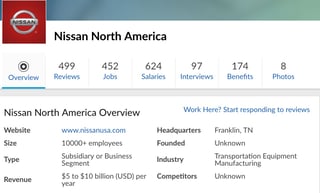 Sites like Comparably give companies insights to benchmark culture, manage company brand, measure sentiment, and a market compensation report.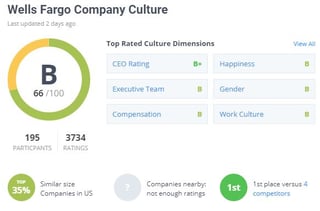 Vault encourages employer branding with an enhanced profile option and offers targeted opportunities with content sponsorships, newsletter and direct email.
Career advice, job-seeker focused
For job seekers needing guidance need career advice from experts. The Muse is most popular amongst the 18-34 year old demographic. For job seekers needing guidance need career advice from experts. The Muse It goes a step further for millenials and gives career and coaching advice. Service is personalised for the job seeker who needs extra help landing their first job or managing their next move. Employers have branding opportunities on the use.
Job boards
Indeed is online tool of classic a job board. The home page is a simple design of two fields, one for job type the other for location. Tyson Foods, Kaiser Permanente, and Eli Lilly post jobs. A straigth forward user interface returns search results. Companies post jobs and can increase presence with more company details.
Credit Suisse, Medtronic and Staples use a slighty advanced version called ZipRecruiter. The platform extends the features to include pre-screen interview questions to save time and ensure only see the most qualified candidates appear. Jobs are posted to 100+ job sites across the web, identifies the best candidates, and notifies them to apply to your job via social network posting
Recruiting platforms
The technology behind Hired matches candidates with job offers through a bidding process with 1:1 support. Employers create a project or job opportunity with a description, then review matches with advance search capability to connect with candidates and secure hires.
Employee referral platforms
Current employees connect their digital contacts to company job offers. With the support of a customer success team companies are supported to effectively leverage its employees to find great referral candidates. The HR technology behind Simppler is based on machine-learning to uncover the best talent. The results can be linked to existing applicant tracking systems.
Recruiter for hire, employer-focused
Tap into a pool of recruiters who charge by the hour. Hire services by recruiter or recruiting teams for more complex projects. Post hiring requirements, receive proposals from recruiting professionals, select then contact the recruiter. Recruit Loop is an HR tool that helps companies looking for recruiting skills based on their needs.
Knowledge assessments
According to Aberdeen, 57% of companies use pre-hire assessments to test the knowledge, skills, abilities, and other qualifications (KSAOs) of their candidates.
The Atrivity game app is a tool powered by trivia type quizzes. Companies use it during the selection process to assess self-reported skills and knowledge. Recruiters can see how applicants rank against other potential hires and use as a filter to move candidates along the process.
HackerRank creates coding and technical assessments to help recruiters assess the skills of developers and software engineers. It also offers an online interviewing tool.
HRMS and talent management technologies
For a more robust and full HR solution suite companies integrate recruiting software and applicant tracking systems. End-to-end solutions leverage data to support all stages of the recruiting funnel from sourcing to onboarding.
Johnson & Johnson uses Breezy to build custom recruiting pipelines for recruiting processes. The drop and drag feature makes it user-friendly. Rich candidate profiles aggregate related data. Communications are managed from the profiles with customised and automated emails.
Data-driven technology streamlines the selection and interviewing process with Greenhouse. Advanced services include application tracking, interviewing, hiring team collaboration, a user-friendly candidate experience, reports, mobile app, integration and ongoing support and training.
Jobvite has features to support every stage of the job matching process from sourcing to onboarding. LinkedIn, Universal Music Group, Havas Group, and Logitech are users of this global solution. Talent pools are unified from a variety of sources for increased database of potential hires.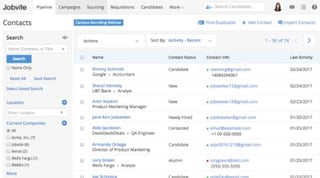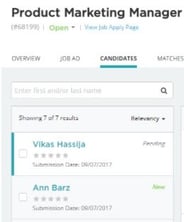 Define profiles, engage hiring team, source and nurture identified talent with iCMS or ClearCompany. A ClearCompany highlighted feature are video assessments that support global recruiting. iCMS offer clients like Canon, Sony Music, GNC, Foot Locker, and BlueCross real-time screening and side-by-side candidate comparison.
A free option with the option for updgrade is Mighty Recruiter. It includes candidate management, analytics and job posting distribution on social networks, job boards and employee referral.
And finally ContactOut practically makes finding emails as easy as looking at your prospect's LinkedIn profile.