Employee retention starts with good onboarding. Keeping an employee is top priority for any hiring manager who's invested in recruiting, selecting, and bringing in new employees . HR is fully aware of the costs and risks of losing candidates they set out to recruit.

As many as

86% of new hires

decide whether to stay or leave a company within

the first six months

on the job and a fifth of new employees in less than two months. Structured

onboarding engages these possible early defectors and increases

employee retention

.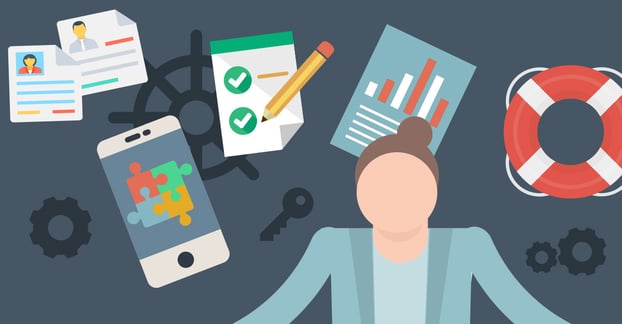 A well-structured onboarding program focused on giving new employees the tools and training will lead to better ROI in new hire acquisition. Organizations vested in keeping employees 1) control turnover costs, 2) increase employee retention, and 3) shorten new hire time to productivity.
A month ago we published our research on 11 Tips for Successful Onboarding of New Employees. These tips complement any onboarding program already in place.
Trainers looking to fine-tune and formalize their current programs can download our presentation here and learn how to create a structured 90 day + program here, or read on for some key takeaways.
Structuring onboarding to align training, new hire readiness with company goals will drive greater employee satisfaction and higher performance rates.
A recent Boston Consulting Group study confirms the positive effect of companies that invest in people-focused programs like onboarding, performance, and employee engagement with increased business performance.
Onboarding ranks #2 in impacting a company's revenue growth and profit margin.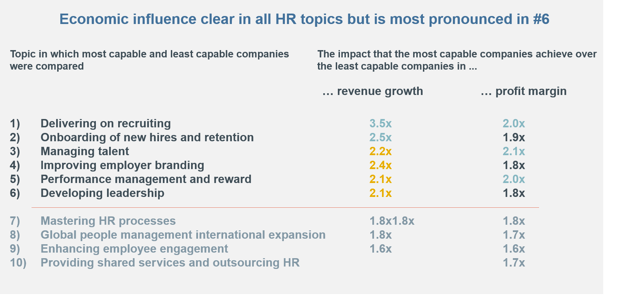 Companies that invest in onboarding see 2.5 times more revenue growth than companies that do not.
HR experts globally recognize "the ultimate payoff of [good onboarding] is to reduce turnover and encourage workers to stay longer for a longer tenure," but surprisingly, 35 % of companies spend 0$ on onboarding. That's more than 1/3 that dedicate no time or resources into integrating employees beyond paper signing.
The less spent on onboarding new hires, the greater the risk of losing them and incurring the related costs. Sunk costs of training and education can only be recovered when employees become increasingly productive. Thus the importance of assuring employee retention rates.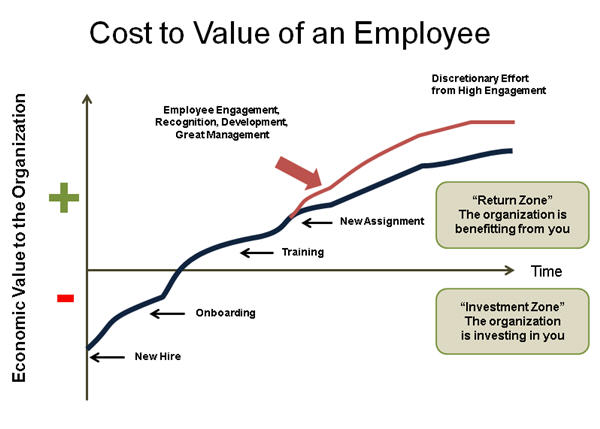 The top three key metrics to monitor the ROI of new hire onboarding are:
Control turnover costs
The loss of a new hire comes at a price, the costs range based on position and salary. To avoid negative new employee acquisition ROI, start investing in engaging new employees even before day 1 in the office. Not only does employee retention improve with early onboarding, but also increases the value of the employee for a company to reach business goals.
Costs to lose new hires:
Executive position: up to 213 % of an annual salary
Mid-level employees earning about $40,000 annually cost about 20 percent, or $8,000, to replace.
Low-paying, high turnover jobs at $10 per hour ring in at about $3,328 lost per employee
Increase employee retention
Research shows that up to 20% of employee turnover happens in the first 45 days. Program informal and formal check-ins early to ask how the employee is doing. Simple check-ins will give you indicators of how well integration is fairing. Managers will have time to make proper adjustments to move onboarding in the right direction.
69% of employees are more likely to stay with a company for three years if they
experienced great onboarding
Up to 20% of employee turnover happens in the first 45 days
Shorten time to productivity
Employees whose companies have longer onboarding programs gain full proficiency 34% faster than those in the shortest programs. Performance is directly related to the tools a company provides. New employees are eager to prove value. Align performance targets with the right training topics. Incorpate realistic and short-tem wins to give the new employee the confidence needed to perform toward full autonomy.
Get more on onboarding from our 90+day slideshare.
You'll learn: