Technological advancements have helped companies save money with employee and client onboarding. However, the banking industry has been hit with high turnover rates and compliance requirements that make bank onboarding a costly process. In fact, compliance training alone costs banks $4.5 billion annually.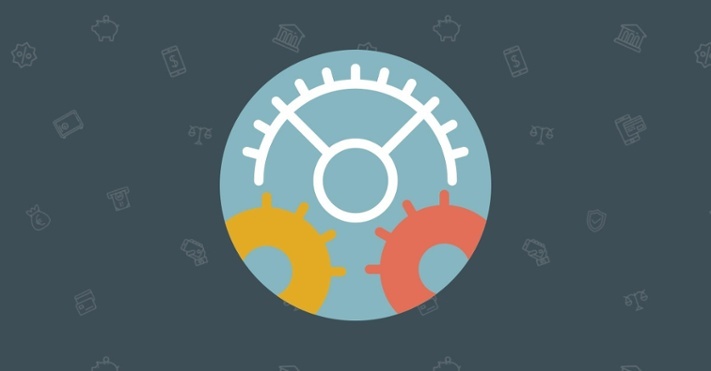 Part of these costs go into hiring new compliance staff and training them. For institutional clients, new regulations have been created to help safeguard both parties from any large risks. These processes are timely and costly, with multiple levels of the bank onboarding cycle combining to impact the bottomline.
What exactly does bank onboarding consist of and what does it cost?
Internal Employee Onboarding
Internal employee onboarding is a necessary process for all new hires and typically begins before a new hire's first day. Recruiting resources, administrative costs, paperwork, and training all combine to cost most companies at least $4,000 per hire on average. Additionally, the annual training budgets of US small businesses totaled an average of over $300,000 in 2014- also included in onboarding costs.
These costs are often industry and role specific, with executives being the most expensive to locate, recruit, and onboard. In bank onboarding, fees skyrocket due to compliance necessities that are now commonplace in all levels of most major banks. This leads the average new hire in financial services to receive an average of 31 hours of training in their first year.
The better the training and onboarding provided, the better value a bank will get in the long run.
In the US from 2014-2015, external spending of services rose 29% to $8 billion for the country's largest companies. To help drive costs down, more companies are turning to external services providers to build and provide technologies that can lower bank onboarding costs. This is currently the best solution for banks that need scalable and efficient training solutions.
Client & Customer Onboarding
Customer onboarding in banking includes both institutional clients and independent banking customers. Both involve critical procedures to ensure clients are not only happy, but receive a level of service and support that ensures a lasting relationship.
The consumer side deals with commonly used banking services such as accounts, loans, investments, and more. Given the level of competition in the market, banks focus on customer service as a core pillar to retain clients. This is a relationship based strategy that takes place well before a client is closed.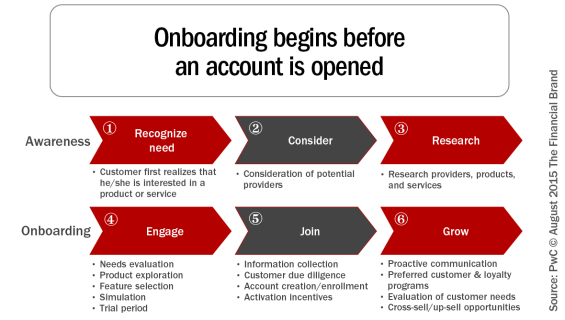 Institutional clients can be more complicated due to increased bureaucracy and higher stakes. A 2015 study conducted by Forrester Consulting found just how complicated and intricate institutional onboarding is:
Onboarding can take up to 34 weeks and cost $25,000 per client
The average cost for an organized client comes out to $6,000 per new client
The bank onboarding process is fragmented and includes sales, compliance, legal, credit, back-office, and operational tasks
How Compliance and KYC Requirements for Banks are Increasing Costs
Know your customer/client, also known as KYC, is a way for banks to safeguard themselves against fraud by obtaining key information about their clients. Considered part of the initial due diligence process of bank onboarding, KYC has become more important since the financial crisis. It is now considered one of the core departments within a bank's compliance division.
Unfortunately, KYC is tricky. Only 70% of financial institutions believe that most or all of their clients are proactive in reporting critical KYC changes. This gap has led innovative firms to create regulation technology solutions, known as RegTech, to tackle the problem.
A Thomas Reuters survey of 800 of the top financial institutions found that the average financial firm spends $60 million annually to cover basic KYC requirements. The biggest banks are currently spending up to $500 million on KYC and customer due diligence. This increase correlates with the increase in regulatory fines following new regulations after the 2007 financial crisis: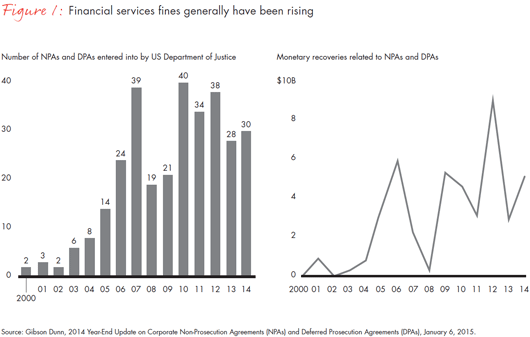 These fines can be proactively avoided by creating a diligent and thourough compliance and KYC foundation - a goal that is currently being achieved by tech companies focusing on optimizing training, knowledge retention, sales acceleration, and onboarding.
---
How are financial institutions onboarding employees in a time of increasingly complex compliance and regulation? What's technology's impact and how are companies already using it?
State of the industry's technology
Banks & mobile apps: can they benefit?
Onboarding and innovation in banking
Bank onboarding implementations
10 facts on retention, training, and talent sourcing
Exclusive TLDR summary